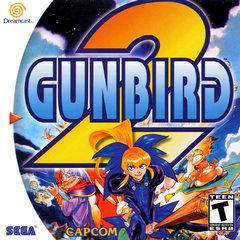 Add this item to your collection.
Keep track of your collection value over time.
Ok
Preis "Nur Spiel"
Website
Preis
Amazon

$73.99

eBay

$75.00

PriceCharting
Komplettpreis
Website
Preis
eBay

$179.99

Amazon
PriceCharting
Preis "Neu"
Website
Preis
eBay

$299.99

Amazon
PriceCharting
Click tabs to see historic sales data.
Click on a listing to see full details.
Ok
Gunbird 2 (Sega Dreamcast) Details
Kategorie:
Shoot'em Up
Veröffentlichungsdatum:
November 17, 2000
ESRB Rating:
Teen
Publisher:
Capcom
Developer:
Psikyo
Model Number:
none
Disc Count:
1 game disc
Player Count:
1 player
Also Compatible On:
none
Notes:
none
UPC:
013388250134
ASIN (Amazon):
B00004WMRF
ePID (eBay):
2559
PriceCharting ID:
9078
Description:
Straight from the hit arcade game, Gunbird 2 is the most intense test of coordination and skill. This action shooters features 7 characters on a quest for the magical ingredients to produce the All-Purpose Medicine. On a journey to see the wise medicine master, you are intercepted by a rowdy band of pirates. Now, maneuver through insane levels of enemy fire to pick up power-ups and other weapons and be the first to recover your stolen bounty and unlock the secret of the medicine master.
Gunbird 2 Preise (Sega Dreamcast) werden täglich für jede der oben genannten Quellen aktualisiert. Die angezeigten Preise sind die günstigsten verfügbaren für Gunbird 2 seit dem letzten Update.
Berechnungsgrundlage sind abgeschlossene Verkäufe, bei denen sich ein Verkäufer und Käufer geeinigt haben. Sofort kaufen Angebote oder jegliche anderen Preise ohne Verkauf fließen nicht mit in die Statistik ein.
Das Diagramm zeigt den Verkaufspreis von Gunbird 2 am Ende jedes Monats seit Aufzeichnungsbeginn.
Bei den Preisen für "Nur Spiel", "OVP" und "Neu" handelt es sich um den aktuellen Marktpreis.