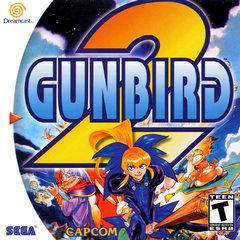 Add this item to your collection.
Keep track of your collection value over time.
Ok
Nieuw
Verkochte Producten
Geclassificeerd
Verkochte Producten
Alleen
Doos
Verkochte Producten
Alleen Handleiding

Verkochte Producten
Los Prijs
Website
Prijs
Amazon

$73.99

eBay

$75.00

PriceCharting
Compleet Prijs
Website
Prijs
eBay

$179.99

Amazon
PriceCharting
Nieuw Prijs
Website
Prijs
eBay

$299.99

Amazon
PriceCharting
Click tabs to see historic sales data.
Click on a listing to see full details.
Ok
Gunbird 2 (Sega Dreamcast) Details
Genre:
Shoot'em Up
Releasedatum:
November 17, 2000
ESRB Rating:
Teen
Publisher:
Capcom
Developer:
Psikyo
Model Number:
none
Disc Count:
1 game disc
Player Count:
1 player
Also Compatible On:
none
Notes:
none
UPC:
013388250134
ASIN (Amazon):
B00004WMRF
ePID (eBay):
2559
PriceCharting ID:
9078
Description:
Straight from the hit arcade game, Gunbird 2 is the most intense test of coordination and skill. This action shooters features 7 characters on a quest for the magical ingredients to produce the All-Purpose Medicine. On a journey to see the wise medicine master, you are intercepted by a rowdy band of pirates. Now, maneuver through insane levels of enemy fire to pick up power-ups and other weapons and be the first to recover your stolen bounty and unlock the secret of the medicine master.
Gunbird 2 prijzen (Sega Dreamcast) worden dagelijks bijgewerkt voor elke hieronder vermelde bron. De weergegeven prijzen zijn de laagste prijzen beschikbaar voor Gunbird 2 sinds de laatste keer dat deze zijn bijgewerkt.
Historische verkoopgegevens zijn voltooide verkopen met een koper en een verkoper die het eens zijn over een prijs. We houden geen rekening met onverkochte artikelen in onze prijzen.
De grafiek toont de prijs van Gunbird 2 aan het einde van elke maand teruggaand gedurende de hele tijd dat wij dit artikel hebben bijgehouden.
Los, CIB en Nieuw prijzen zijn de huidige marktprijs.