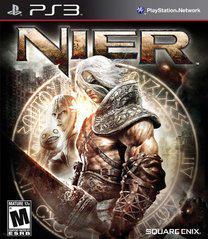 Add this item to your collection.
Keep track of your collection value over time.
Ok
Manual
Only

Sold Listings
Loose Price
Site
Price
eBay

$10.00

Amazon

$10.93

GameStop

$24.99

PriceCharting

$29.55

+ free shipping

Complete Price
Site
Price
eBay

$14.71

Amazon

$17.28

PriceCharting

$29.55

+ free shipping

GameStop
New Price
Site
Price
Amazon

$17.28

eBay

$20.00

GameStop
PriceCharting
Click tabs to see historic sales data.
Click on a listing to see full details.
Ok
Nier (Playstation 3) Details
Genre:
RPG
Release Date:
April 27, 2010
ESRB Rating:
Mature
Publisher:
Square Enix
Developer:
Cavia
Model Number:
none
Disc Count:
1 game disc
Player Count:
1 player
Also Compatible On:
none
Notes:
none
UPC:
662248909103
ASIN (Amazon):
B002BRYIJY
ePID (eBay):
56237644
PriceCharting ID:
21254
Description:
The game is a spin-off from the Drakengard series, and follows the fifth ending of the first game, the events of which have left the planet Earth in a state of decay. Set over one thousand years after this, the game puts the player in control of the protagonist as he attempts to find a cure for an illness, known as the Black Scrawl, to which Yonah—either his sister or daughter, depending on the version—has succumbed. Partnering with a talking book known as Grimoire Weiss, he journeys with two other characters, Kainé and Emil, as he attempts to find a remedy and understand the nature of the creatures known as Shades that stalk the world. The gameplay borrows elements from various video game genres, occasionally switching between them and the main role-playing-based gameplay. Nier was designed to have gameplay that would appeal to players outside of Japan, where Cavia is based; additionally, the Gestalt version of the game has an older main character for the same reason. The music was composed by Keiichi Okabe, head of Monaca, a music composition studio, and several albums have been released. Nier was released to mixed reception; reviewers praised the story, characters and soundtrack and were mixed in their opinions of how well the disparate gameplay elements were connected. The execution of some gameplay elements was criticized, notably the side quests, and the graphics were regarded as substandard. Despite this, the game acquired acclaim among players over time, becoming a cult classic. Nier sold 700,000 copies prior to the release of the 1.22474487139... version. A sequel developed by PlatinumGames, titled Nier: Automata, was released in 2017.
Nier prices (Playstation 3) are updated daily for each source listed above. The prices shown are the lowest prices available for Nier the last time we updated.
Historic sales data are completed sales with a buyer and a seller agreeing on a price. We do not factor unsold items into our prices.
Chart shows the price of Nier at the end of each month going back as long as we have tracked the item.
Loose, CIB, and New prices are the current market price.