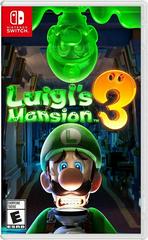 Add this item to your collection.
Keep track of your collection value over time.
Ok
Manual
Only

Sold Listings
Loose Price
Site
Price
Amazon

$42.44

GameStop

$49.99

PriceCharting
eBay
Complete Price
Site
Price
Amazon

$50.75

GameStop

$52.99

PriceCharting
eBay
New Price
Site
Price
Amazon

$50.75

GameStop

$52.99

PriceCharting
eBay
Click tabs to see historic sales data.
Click on a listing to see full details.
Ok
Luigi's Mansion 3 (Nintendo Switch) Details
Genre:
Action & Adventure
Release Date:
October 31, 2019
ESRB Rating:
Everyone
Publisher:
Nintendo
Developer:
Next Level Games
Model Number:
#HAC P AG3JA CAN
Player Count:
1-8 Players
Also Compatible On:
none
Notes:
none
UPC:
045496596408,045496596415
ASIN (Amazon):
B07SK4W1VJ
ePID (eBay):
22035624771
PriceCharting ID:
65419
Description:
The hotel is haunted. Mario is missing. And our only hope is…Luigi?! Luigi's invited to the towering Last Resort hotel, but when Mario and friends go missing, our green-clad hero will have to conquer his fears to save them! Slam, blow away, and vacuum up ghosts with the all-new Poltergust G-00, and join forces with Gooigi to overcome the puzzling contraptions and mischievous boss on each themed floor. And that's just the Last Resort. Enter the ScareScraper for 8-player local wireless or online co-op gameplay. See if you can defeat all the ghosts, rescue all the toads, or clear other objectives before time runs out…in the ScareScraper! And for more mini-game madness, compete on teams at the ScreamPark! Whether you play with friends or wander the hotel alone, you'll be sucked in by the atmospheric music and ghoulish décor of every cobwebby corner you explore. Why not take in the cinematic sights and sounds with a friend? In the main adventure, you and a friend can play together as Luigi and Gooigi in two-player co-op! Gooigi can walk on spikes, slip through tight spaces, and help Luigi overcome obstacles he can't tackle alone. Never hurts to have a friend in this hotel; it may not be very spooky, but Luigi begs to differ! • Catch ghosts and solve puzzles to rescue Mario and friends in the Last Resort hotel • Each floor of this towering hotel is themed, from the décor to the puzzles to boss! • Utilize the functions of the all-new Poltergust G-00: Pummel ghosts with a Slam, break through defenses with the Suction Shot, and blow back groups with a Burst • Luigi can call upon and control Gooigi, his all-green doppelganger, who can do what Luigi can't • Gooigi can slip through tight spaces, walk on spikes, and help Luigi overcome obstacles • Change between Luigi and Gooigi in single player, or let a friend play as Gooigi for 2-player co-op • Up to 8 players can work together to ascend the Scarescaper via local wireless or online • It's Team Luigi vs. Team Gooigi in a mini-game battle to see which is the ultimate team of ghost hunters
More Photos of Luigi's Mansion 3
Luigi's Mansion 3 prices (Nintendo Switch) are updated daily for each source listed above. The prices shown are the lowest prices available for Luigi's Mansion 3 the last time we updated.
Historic sales data are completed sales with a buyer and a seller agreeing on a price. We do not factor unsold items into our prices.
Chart shows the price of Luigi's Mansion 3 at the end of each month going back as long as we have tracked the item.
Loose, CIB, and New prices are the current market price.