Alpha Mission II Neo Geo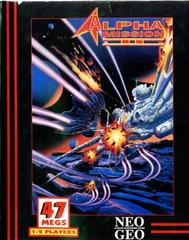 Prix en Vrac
Site
Prix
Amazon
PriceCharting
eBay
Prix Complet
Site
Prix
Amazon
PriceCharting
eBay
Nouveau Prix
Site
Prix
Amazon
PriceCharting
eBay
No sales data for this game and condition
No sales data for this game and condition
No sales data for this game and condition
No sales data for this game and condition
Information de Alpha Mission II sur (Neo Geo)
Genre:
Shoot'em Up
Date de Sortie:
July 1, 1991
ESRB Rating:
Not Applicable
Publisher:
SNK
Developer:
SNK
Model Number:
none
Player Count:
1 player
Also Compatible On:
none
Notes:
none
UPC:
none
ASIN (Amazon):
none
ePID (eBay):
none
PriceCharting ID:
37846
Variantes:
aes /
Description:
The lunar nightmare of a bloody 200-year space war was thought to be over in the "original" ALPHA MISSION. But now with the advent of more technically sophisticated weapons, the evil "Fulvar" and his "Seven Star Alliance" have returned to destroy all planets that stand in their way of the ultimate target... Earth! Now in the year of 2525! Your mission as pilot of the new SYD-FX fighter is to use every weapon at your disposal to rid the galaxy once and for all of the evil that now dominates and threatens Earth. So suit up, hold your breath, and stand ready for unbelievable graphics and stereo sound that'll suck you into the far reaches of deep, dark inner space. Be prepared... you may never come back!
More Photos of Alpha Mission II
Les prix de Alpha Mission II sur Neo Geo sont actualisés tous les jours pour chacune des sources énumérées plus haut. Les prix indiqués sont les prix demandés les plus bas de Alpha Mission II au moment de la dernière mise à jour.
L'historique des ventes ne concerne que les ventes conclues dont le prix a été accepté par l'acheteur et le vendeur. Nous ne tenons pas compte des ventes non conclues.
Les graphiques vous indiquent le prix de Alpha Mission II à la fin de chaque mois, ainsi que son évolution depuis que nous avons commencé à le suivre.
Les prix en loose, CEB et neufs représentent les prix du marché actuel.
Select options to
display historic prices
Ok