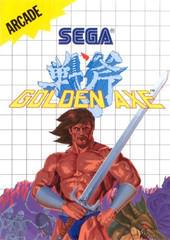 Information de Golden Axe sur (Sega Master System)
Genre:
Beat'em Up
Date de Sortie:
January 1, 1989
ESRB Rating:
Teen
Publisher:
Sega
Developer:
Sega
Model Number:
none
Player Count:
1-2 Players
Also Compatible On:
none
Notes:
none
UPC:
010086090048,069044090071
ASIN (Amazon):
B001A4BHAM
ePID (eBay):
56209734
PriceCharting ID:
18860
Description:
The residents of the once-peaceful city of Yuria have lost the legendary Golden Axe - the very thing that had shielded them from evil for so long. It is now in the hands of the unscrupulous titan, Death-Adder. Tarik, the seasoned warrior whose skill with his giant sword is both praised and feared throughout the land, has come forth to try and wrest the Axe from the grasp of the black-hearted warlord. Help Tarik to battle the many types of bandits that Death-Adder has amassed to protect himself. Using the sword, and certain very special magical powers, guide Tarik through the gauntlet of bandits to Death-Adder's castle! He'll be waiting there for you, and he's terribly reluctant to give up the Golden Axe! Are you brave enough to bring back the Axe, and thus restore tranquility to Yuria, or will you wind up just another victim of the evil warlord?
More Photos of Golden Axe
Les prix de Golden Axe sur Sega Master System sont actualisés tous les jours pour chacune des sources énumérées plus haut. Les prix indiqués sont les prix demandés les plus bas de Golden Axe au moment de la dernière mise à jour.
L'historique des ventes ne concerne que les ventes conclues dont le prix a été accepté par l'acheteur et le vendeur. Nous ne tenons pas compte des ventes non conclues.
Les graphiques vous indiquent le prix de Golden Axe à la fin de chaque mois, ainsi que son évolution depuis que nous avons commencé à le suivre.
Les prix en loose, CEB et neufs représentent les prix du marché actuel.
Select options to
display historic prices
Ok