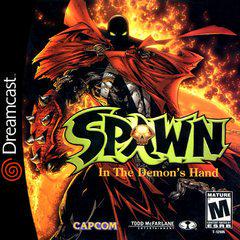 Add this item to your collection.
Keep track of your collection value over time.
Ok
Prix en Vrac
Site
Prix
eBay

$78.99

Amazon

$119.95

PriceCharting
Prix Complet
Site
Prix
eBay

$99.99

Amazon
PriceCharting
Nouveau Prix
Site
Prix
eBay

$249.99

Amazon
PriceCharting
Click tabs to see historic sales data.
Click on a listing to see full details.
Ok
Information de Spawn In the Demon's Hand sur (Sega Dreamcast)
Genre:
Action & Adventure
Date de Sortie:
October 1, 2000
ESRB Rating:
Mature
Publisher:
Capcom
Developer:
none
Model Number:
none
Disc Count:
1 game disc
Player Count:
1 player
Also Compatible On:
none
Notes:
none
UPC:
013388250127
ASIN (Amazon):
B00004XONQ
ePID (eBay):
2638
PriceCharting ID:
9805
Description:
The legendary hellbound comic anti-hero comes to life. Straight from the blockbuster arcade game, this home version kicks it up a notch with ever more features and modes of play. Up to 4 players can battle in the "death match-style" Battle Royal Mode or choose a computer controlled teammate to take on Team Battle Mode. All your favorite characters from the Spawn series are faithfully recreated in the ultimate death match challenge.
Les prix de Spawn In the Demon's Hand sur Sega Dreamcast sont actualisés tous les jours pour chacune des sources énumérées plus haut. Les prix indiqués sont les prix demandés les plus bas de Spawn In the Demon's Hand au moment de la dernière mise à jour.
L'historique des ventes ne concerne que les ventes conclues dont le prix a été accepté par l'acheteur et le vendeur. Nous ne tenons pas compte des ventes non conclues.
Les graphiques vous indiquent le prix de Spawn In the Demon's Hand à la fin de chaque mois, ainsi que son évolution depuis que nous avons commencé à le suivre.
Les prix en loose, CEB et neufs représentent les prix du marché actuel.