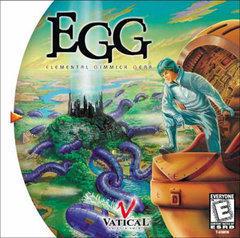 Prix en Vrac
Site
Prix
Amazon

$59.95

eBay

$179.99

PriceCharting
Prix Complet
Site
Prix
eBay

$179.99

Amazon
PriceCharting
Nouveau Prix
Site
Prix
eBay

$179.99

Amazon
PriceCharting
No sales data for this game and condition
No sales data for this game and condition
Information de EGG Elemental Gimmick Gear sur (Sega Dreamcast)
Genre:
RPG
Date de Sortie:
none
ESRB Rating:
Everyone
Publisher:
Vatical Entertainment
Developer:
Birthday
Model Number:
none
Disc Count:
1 game disc
Player Count:
1 player
Also Compatible On:
none
Notes:
none
UPC:
681313024114
ASIN (Amazon):
B00003O9KF
ePID (eBay):
2784
PriceCharting ID:
8902
Description:
While dipping through the ancient ruins, archaeologists found a sleeping man inside an egg-shaped machine. Though the scientists couldn't wake up the Sleeper, they were able to reproduce his machine, which people started calling Elemental Gimmick Gear, or EGG. A wide variety of EGGs have been manufactured for civilian and military use. One hundred years after the discovery of the Sleeper, something goes terribly wrong, destroying the city and the people. The Sleeper awakens and leaves the laboratory. As the Sleeper, you try to save the city of Fogna and learn what went wrong.
More Photos of EGG Elemental Gimmick Gear
Les prix de EGG Elemental Gimmick Gear sur Sega Dreamcast sont actualisés tous les jours pour chacune des sources énumérées plus haut. Les prix indiqués sont les prix demandés les plus bas de EGG Elemental Gimmick Gear au moment de la dernière mise à jour.
L'historique des ventes ne concerne que les ventes conclues dont le prix a été accepté par l'acheteur et le vendeur. Nous ne tenons pas compte des ventes non conclues.
Les graphiques vous indiquent le prix de EGG Elemental Gimmick Gear à la fin de chaque mois, ainsi que son évolution depuis que nous avons commencé à le suivre.
Les prix en loose, CEB et neufs représentent les prix du marché actuel.
Select options to
display historic prices
Ok