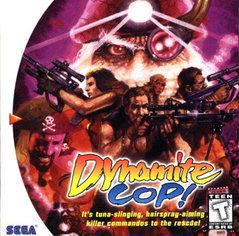 Prix en Vrac
Site
Prix
Amazon

$93.97

eBay

$299.99

PriceCharting
Prix Complet
Site
Prix
eBay

$299.99

Amazon
PriceCharting
Nouveau Prix
Site
Prix
eBay

$299.99

Amazon
PriceCharting
Sale Date

▲

▼

Title

▲

▼

▲

▼

Price
2021-05-09
Dynamite Cop (Sega Dreamcast, 1999) complete W Manual & Case Very Good Condition

$129.99

Report

2021-05-06
Dynamite Cop (Sega Dreamcast, 1999) complete, authentic, and tested!

$109.99

Report

2021-04-25
Dynamite Cop (Sega Dreamcast, 1999)

$81.00

Report

2021-04-22
Dynamite Cop (Sega Dreamcast, 1999)

$105.00

Report

2021-04-21
Dynamite Cop (Sega Dreamcast, 1999) complete, authentic, and tested Clean

$129.99

Report

2021-04-21
Dynamite Cop (Sega Dreamcast, 1999) Video Game Complete CIB RARE

$110.77

Report

2021-04-20
Dynamite Cop Sega Dreamcast DC EX+NM condition COMPLETE!

$104.99

Report

2021-04-20
Dynamite cop US dreamcast NTSC excellent condition and tested

$76.61

Report

2021-04-19
Dynamite Cop (Sega Dreamcast, 1999)

$99.99

Report

2021-04-17
Dynamite Cop! - Sega Dreamcast COMPLETE $95

$77.27

Report

2021-04-17
Dynamite Cop (Sega Dreamcast, 1999) complete

$95.00

Report

2021-04-15
Dynamite Cop (Sega Dreamcast, 1999) Complete CIB Tested Authentic

$99.99

Report

2021-04-13
Dynamite Cop! Sega Dreamcast Game Complete Great Condition

$110.50

Report

2021-04-06
Dynamite Cop - SEGA Dreamcast - 1999

$100.00

Report

2021-04-06
Dynamite Cop (Sega Dreamcast, 1999) complete, authentic, and tested

$100.00

Report

2021-04-04
Dynamite Cop (Sega Dreamcast, 1999) Complete Excellent Condition

$81.00

Report

2021-04-03
Dynamite Cop (Sega Dreamcast, 1999)

$83.50

Report

2021-04-01
Dynamite Cop Sega Dreamcast DC LN perfect condition COMPLETE!

$119.99

Report

2021-04-01
Dynamite Cop (Sega Dreamcast, 1999)

$55.00

Report

2021-04-01
Dynamite Cop! (Sega Dreamcast) Near Mint RARE! Works Perfect!!!

$105.00

Report

2021-03-31
Dynamite Cop! - Sega Dreamcast COMPLETE (disc, case and manual)

$67.79

Report

2021-03-26
Dynamite Cop (Sega Dreamcast, 1999)

$103.50

Report

2021-03-24
Dynamite Cop (Sega Dreamcast, 1999) Complete NICE Excellent Condition

$100.00

Report

2021-03-18
Dynamite Cop (Sega Dreamcast, 1999)

$99.99

Report

2021-03-16
Dynamite Cop, Complete Excellent Condition (Sega Dreamcast, 1999) CIB DC

$90.00

Report

2021-03-16
Dynamite Cop (Sega Dreamcast, 1999) CIB Manual and original artwork

$80.00

Report

2021-03-14
Dynamite Cop! Sega Dreamcast Vintage Video Game 1999

$65.00

Report

2021-03-14
Dynamite Cop (Sega Dreamcast, 1999) Complete NICE

$95.00

Report

2021-03-11
DYNAMITE COP Original SEGA DREAMCAST Video Game 1999 Complete

$99.99

Report

2021-03-06
Dynamite Cop (Sega Dreamcast, 1999) * Complete *

$65.95

Report
No sales data for this game and condition
Information de Dynamite Cop sur (Sega Dreamcast)
Genre:
Beat'em Up
Date de Sortie:
October 31, 1999
ESRB Rating:
Teen
Publisher:
Sega
Developer:
Sega
Model Number:
none
Disc Count:
1 game disc
Player Count:
1 player
Also Compatible On:
none
Notes:
none
UPC:
010086510133
ASIN (Amazon):
B00000K4C7
ePID (eBay):
2708
PriceCharting ID:
8885
Description:
Got good aim with a rack of beef? Then get creative with your weapons. Hurl anything that's not nailed down at the no-good pirates who've kidnapped the President's daughter. This ain't no clean fight.
More Photos of Dynamite Cop
Les prix de Dynamite Cop sur Sega Dreamcast sont actualisés tous les jours pour chacune des sources énumérées plus haut. Les prix indiqués sont les prix demandés les plus bas de Dynamite Cop au moment de la dernière mise à jour.
L'historique des ventes ne concerne que les ventes conclues dont le prix a été accepté par l'acheteur et le vendeur. Nous ne tenons pas compte des ventes non conclues.
Les graphiques vous indiquent le prix de Dynamite Cop à la fin de chaque mois, ainsi que son évolution depuis que nous avons commencé à le suivre.
Les prix en loose, CEB et neufs représentent les prix du marché actuel.
Select options to
display historic prices
Ok