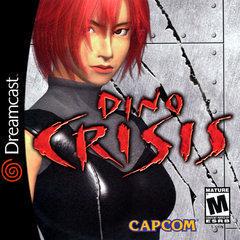 Prix en Vrac
Site
Prix
eBay

$43.99

Amazon

$60.00

PriceCharting
Prix Complet
Site
Prix
eBay

$82.10

Amazon
PriceCharting
Nouveau Prix
Site
Prix
eBay

$154.99

Amazon
PriceCharting
Sale Date

▲

▼

Title

▲

▼

▲

▼

Price
2021-06-13
Dino Crisis (Sega Dreamcast) Complete

$82.00

Report

2021-06-12
Dino Crisis Sega Dreamcast Game Complete

$87.95

Report

2021-06-09
Dino Crisis (Sega Dreamcast) Complete ..*case Eaten By Raptor?* (Fair Condition)

$67.99

Report

2021-05-31
Dino Crisis (Sega Dreamcast, 2000) - COMPLETE , RARE

$90.00

Report

2021-05-23
Dino Crisis (Sega Dreamcast, 2000) - COMPLETE , RARE

$91.00

Report

2021-05-22
Dino Crisis (Sega Dreamcast, 2000)

$88.00

Report

2021-05-20
Dino Crisis (Sega Dreamcast) Complete

$71.00

Report

2021-05-18
Dino Crisis (Sega Dreamcast) Complete -- Tested

$94.50

Report

2021-05-13
Dino Crisis (Sega Dreamcast, 2000) Pre-Owned Complete with Manual & Case

$71.00

Report

2021-05-13
Dino Crisis Sega Dreamcast Complete In Box!

$60.00

Report

2021-05-12
Dino Crisis (Sega Dreamcast, 2000) * Complete *

$75.95

Report

2021-05-12
Dino Crisis (Sega Dreamcast, 2000) CIB

$71.00

Report

2021-05-10
Dino Crisis (Sega Dreamcast, 2000) CIB

$82.00

Report

2021-05-09
Dino Crisis (Sega Dreamcast, 2000) Pre-Owned Complete with Manual & Case

$87.99

Report

2021-05-08
Dino Crisis (Sega Dreamcast) -- Complete -- ACCEPTABLE shape

$109.95

Report

2021-05-07
Sega Dreamcast - Dino Crisis

$80.00

Report

2021-05-06
Dino Crisis - Sega Dreamcast - Grade B+, (Disc & Manual)

$70.00

Report

2021-05-04
Dino Crisis (Sega Dreamcast, 2000) Pre-Owned Complete with Manual & Case

$77.99

Report

2021-05-04
Dino Crisis (Sega Dreamcast, 2000)

$80.00

Report

2021-05-04
dino crisis dreamcast

$74.99

Report

2021-05-02
Dino Crisis Sega Dreamcast Game Rare Excellent Condition Nice Capcom

$78.00

Report

2021-04-30
Dino Crisis Sega Dreamcast Complete

$100.00

Report

2021-04-30
Dino Crisis Tested (Sega Dreamcast, 2000)

$105.00

Report

2021-04-30
Dino Crisis Sega Dreamcast Game Rare and OOP!!!

$150.00

Report

2021-04-29
Dino Crisis (Sega Dreamcast, 2000) CIB complete tested rare

$75.00

Report

2021-04-28
Dino Crisis (Sega Dreamcast). North America - Complete - Rare

$90.00

Report

2021-04-25
Dino Crisis (Sega Dreamcast, 2000)

$99.99

Report

2021-04-25
Dino Crisis (Sega Dreamcast, 2000) Complete W Manual And Case

$99.99

Report

2021-04-21
Sega Dreamcast Dino Crisis, all original, complete

$152.50

Report

2021-04-17
Dino Crisis (Sega Dreamcast, 2000)

$81.00

Report
No sales data for this game and condition
Information de Dino Crisis sur (Sega Dreamcast)
Genre:
Horror
Date de Sortie:
November 14, 2000
ESRB Rating:
Mature
Publisher:
Capcom
Developer:
none
Model Number:
none
Disc Count:
1 game disc
Player Count:
1 player
Also Compatible On:
none
Notes:
none
UPC:
013388250189
ASIN (Amazon):
B000055YVY
ePID (eBay):
3190
PriceCharting ID:
8845
Description:
Raw instinct takes over in this adrenaline-pumping journey into Survival Horror. Something is terribly wrong. Your covert mission to infiltrate an isolated, research compound, has gone haywire... now you find yourself pursued by a relentless, pre-historic terror. Suddenly, your mission becomes a desperate fight for survival.
More Photos of Dino Crisis
Les prix de Dino Crisis sur Sega Dreamcast sont actualisés tous les jours pour chacune des sources énumérées plus haut. Les prix indiqués sont les prix demandés les plus bas de Dino Crisis au moment de la dernière mise à jour.
L'historique des ventes ne concerne que les ventes conclues dont le prix a été accepté par l'acheteur et le vendeur. Nous ne tenons pas compte des ventes non conclues.
Les graphiques vous indiquent le prix de Dino Crisis à la fin de chaque mois, ainsi que son évolution depuis que nous avons commencé à le suivre.
Les prix en loose, CEB et neufs représentent les prix du marché actuel.
Select options to
display historic prices
Ok