Elder Scrolls V: Skyrim Special Edition Playstation 4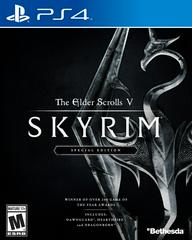 Information de Elder Scrolls V: Skyrim Special Edition sur (Playstation 4)
Genre:
RPG
Date de Sortie:
October 28, 2016
ESRB Rating:
Mature
Publisher:
Bethesda Softworks
Developer:
Bethesda Game Studios
Model Number:
none
Disc Count:
1 game disc
Player Count:
1 player
Also Compatible On:
none
Notes:
none
UPC:
093155171251,093155171626,093155171275
ASIN (Amazon):
B01GW8XJVU
ePID (eBay):
223482818
PriceCharting ID:
37077
Variantes:
dragonborn bundle /
Description:
Winner of more than 200 Game of the Year Awards, Skyrim Special Edition brings the epic fantasy to life in stunning detail. The Special Edition includes the critically acclaimed game and add-ons with all-new features like remastered art and effects, volumetric god rays, dynamic depth of field, screen-space reflections, and more. Skyrim Special Edition also brings the full power of PC mods to consoles. New quests, environments, characters, dialogue, armor, weapons and more – with Mods, there are no limits to what you can experience.
More Photos of Elder Scrolls V: Skyrim Special Edition
Les prix de Elder Scrolls V: Skyrim Special Edition sur Playstation 4 sont actualisés tous les jours pour chacune des sources énumérées plus haut. Les prix indiqués sont les prix demandés les plus bas de Elder Scrolls V: Skyrim Special Edition au moment de la dernière mise à jour.
L'historique des ventes ne concerne que les ventes conclues dont le prix a été accepté par l'acheteur et le vendeur. Nous ne tenons pas compte des ventes non conclues.
Les graphiques vous indiquent le prix de Elder Scrolls V: Skyrim Special Edition à la fin de chaque mois, ainsi que son évolution depuis que nous avons commencé à le suivre.
Les prix en loose, CEB et neufs représentent les prix du marché actuel.
Select options to
display historic prices
Ok