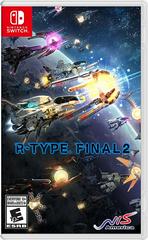 Prix en Vrac
Site
Prix
Amazon

$42.00

GameStop

$48.21

PriceCharting
eBay
Prix Complet
Site
Prix
Amazon

$47.99

GameStop

$48.21

PriceCharting
eBay
Nouveau Prix
Site
Prix
Amazon

$47.99

GameStop

$48.21

PriceCharting
eBay
No sales data for this game and condition
No sales data for this game and condition
No sales data for this game and condition
No sales data for this game and condition
Information de R-Type Final 2 sur (Nintendo Switch)
Genre:
Shoot'em Up
Date de Sortie:
April 30, 2021
ESRB Rating:
Everyone 10+
Publisher:
NIS America
Developer:
Granzella
Model Number:
none
Player Count:
1 player
Also Compatible On:
none
Notes:
none
UPC:
810023036876
ASIN (Amazon):
B08LRV71F5
ePID (eBay):
none
PriceCharting ID:
1313914
Variantes:
limited edition /
Description:
The legendary shoot-'em-up hit is back with unparalleled R-Type experience! As the latest installment of a series renowned for its colorful visuals and frenetic shooter action, R-Type Final 2 steps it up in its explosive debut on current platforms with 3D graphics and modernized gameplay features. New and old players alike can shape their experience to their liking with the performance-based difficulty system and customizable ships and pilots, while experiencing classic R-Type trademarks such as the "Force" mechanic and an addictive gameplay loop. Navigate an entire universe of new and classic stages, face enemies that evolve with your performance, and blast the competition away with worldwide leaderboards in this successor to the acclaimed R-Type franchise.
More Photos of R-Type Final 2
Les prix de R-Type Final 2 sur Nintendo Switch sont actualisés tous les jours pour chacune des sources énumérées plus haut. Les prix indiqués sont les prix demandés les plus bas de R-Type Final 2 au moment de la dernière mise à jour.
L'historique des ventes ne concerne que les ventes conclues dont le prix a été accepté par l'acheteur et le vendeur. Nous ne tenons pas compte des ventes non conclues.
Les graphiques vous indiquent le prix de R-Type Final 2 à la fin de chaque mois, ainsi que son évolution depuis que nous avons commencé à le suivre.
Les prix en loose, CEB et neufs représentent les prix du marché actuel.
Select options to
display historic prices
Ok