Game Genie Top Loader Adaptor NES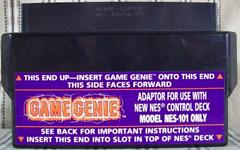 Prix en Vrac
Site
Prix
Amazon
PriceCharting
eBay
Prix Complet
Site
Prix
Amazon
PriceCharting
eBay
Nouveau Prix
Site
Prix
Amazon
PriceCharting
eBay
No sales data for this game and condition
No sales data for this game and condition
No sales data for this game and condition
No sales data for this game and condition
Information de Game Genie Top Loader Adaptor sur (NES)
Genre:
Accessories
Date de Sortie:
January 1, 1994
ESRB Rating:
Not Applicable
Publisher:
Galoob
Developer:
none
Model Number:
none
Player Count:
1 player
Notes:
none
UPC:
none
ASIN (Amazon):
none
ePID (eBay):
none
PriceCharting ID:
37040
Description:
The original Game Genie had a thicker PCB in order to account for the inability to press down on the NES - 001's "ZIF" connector. However, the Game Genie could get stuck if put into a top loader. (NES - 101) To solve this, Galoob released an adapter for it that makes the Game Genie fit just fine.
More Photos of Game Genie Top Loader Adaptor
Les prix de Game Genie Top Loader Adaptor sur NES sont actualisés tous les jours pour chacune des sources énumérées plus haut. Les prix indiqués sont les prix demandés les plus bas de Game Genie Top Loader Adaptor au moment de la dernière mise à jour.
L'historique des ventes ne concerne que les ventes conclues dont le prix a été accepté par l'acheteur et le vendeur. Nous ne tenons pas compte des ventes non conclues.
Les graphiques vous indiquent le prix de Game Genie Top Loader Adaptor à la fin de chaque mois, ainsi que son évolution depuis que nous avons commencé à le suivre.
Les prix en loose, CEB et neufs représentent les prix du marché actuel.