Teenage Mutant Ninja Turtles III Radical Rescue GameBoy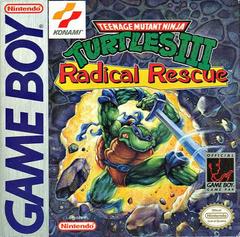 Prix en Vrac
Site
Prix
eBay

$100.00

Amazon
PriceCharting
Prix Complet
Site
Prix
Amazon
PriceCharting
eBay
Nouveau Prix
Site
Prix
Amazon
PriceCharting
eBay
No sales data for this game and condition
Information de Teenage Mutant Ninja Turtles III Radical Rescue sur (GameBoy)
Genre:
Action & Adventure
Date de Sortie:
November 25, 1993
ESRB Rating:
none
Publisher:
Konami
Developer:
Konami
Model Number:
none
Player Count:
1 player
Also Compatible On:
GameBoy Advance and GameBoy Color
Notes:
none
UPC:
083717140160
ASIN (Amazon):
B000035XC6
ePID (eBay):
5150
PriceCharting ID:
13678
Description:
The third Ninja Turtle adventure on the Game Boy takes place one year after the events of the last game. Shredder has escaped from prison, and managed to capture turtle-friendly reporter April O'Neal yet again! Only this time, he manages to capture three of the turtles, Raphael, Donatello, and Leonardo, before the game even starts. So, you start out as Michaelangelo on a quest to rescue your pals and restore justice to the city. Radical Rescue differs from the previous Ninja Turtle games greatly in terms of level structure. The linear levels have been replaced with one huge interconnected fortress. You progress through the game by finding the various bosses hidden within the fortress, defeating them, and then using the keys they leave behind to open up new rooms. When you happen to find one of the turtles that has been captured, they become a playable character.
More Photos of Teenage Mutant Ninja Turtles III Radical Rescue
Les prix de Teenage Mutant Ninja Turtles III Radical Rescue sur GameBoy sont actualisés tous les jours pour chacune des sources énumérées plus haut. Les prix indiqués sont les prix demandés les plus bas de Teenage Mutant Ninja Turtles III Radical Rescue au moment de la dernière mise à jour.
L'historique des ventes ne concerne que les ventes conclues dont le prix a été accepté par l'acheteur et le vendeur. Nous ne tenons pas compte des ventes non conclues.
Les graphiques vous indiquent le prix de Teenage Mutant Ninja Turtles III Radical Rescue à la fin de chaque mois, ainsi que son évolution depuis que nous avons commencé à le suivre.
Les prix en loose, CEB et neufs représentent les prix du marché actuel.
Select options to
display historic prices
Ok