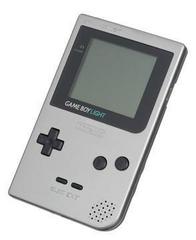 Prix en Vrac
Site
Prix
Amazon

$152.55

PriceCharting
eBay
Prix Complet
Site
Prix
Amazon
PriceCharting
eBay
Nouveau Prix
Site
Prix
Amazon
PriceCharting
eBay
No sales data for this game and condition
No sales data for this game and condition
No sales data for this game and condition
No sales data for this game and condition
Information de Gameboy Light sur (GameBoy)
Genre:
Systems
Date de Sortie:
April 14, 1998
ESRB Rating:
Not Applicable
Publisher:
Nintendo
Developer:
Nintendo
Model Number:
#MGB-101
Player Count:
1 player
Notes:
none
UPC:
none
ASIN (Amazon):
B0001PW4TY
ePID (eBay):
none
PriceCharting ID:
39945
Description:
The Game Boy Light is the second and final revision of the original Game Boy exclusive to Japan. Released on 14 April 1998, it was the first Game Boy to include an electroluminescent backlit screen and the only such console until a backlit version of the Game Boy Advance SP was released in 2005. The Game Boy Light kept the form factor of the Game Boy Pocket, albeit taller and with a larger "hump" battery compartment redesigned to take two AA batteries. At launch, the Game Boy Light was only available in gold and silver, but was later made available in translucent yellow (Toys "R" Us), translucent red (Tezuka Osamu World Shop), and transparent (Astro Boy & Famitsu) as special, limited editions. A very limited "Pikachu" version model was later released at Pokémon Center Tokyo for a very limited time and an estimated 1,000 of these units were produced according to Nintendo.
More Photos of Gameboy Light
Les prix de Gameboy Light sur GameBoy sont actualisés tous les jours pour chacune des sources énumérées plus haut. Les prix indiqués sont les prix demandés les plus bas de Gameboy Light au moment de la dernière mise à jour.
L'historique des ventes ne concerne que les ventes conclues dont le prix a été accepté par l'acheteur et le vendeur. Nous ne tenons pas compte des ventes non conclues.
Les graphiques vous indiquent le prix de Gameboy Light à la fin de chaque mois, ainsi que son évolution depuis que nous avons commencé à le suivre.
Les prix en loose, CEB et neufs représentent les prix du marché actuel.
Select options to
display historic prices
Ok