Final Fantasy Legend GameBoy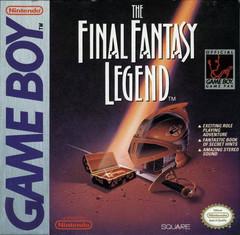 Information de Final Fantasy Legend sur (GameBoy)
Genre:
RPG
Date de Sortie:
September 30, 1990
ESRB Rating:
Teen
Publisher:
Square
Developer:
Square
Model Number:
none
Player Count:
1 player
Also Compatible On:
GameBoy Advance and GameBoy Color
Notes:
none
UPC:
094689201018
ASIN (Amazon):
B00005BISG
ePID (eBay):
4104
PriceCharting ID:
2845
Description:
The Final Fantasy Legend takes you on a sensational voyage through four fantastic worlds: Land, Ocean, Space and Future City. You and your band of warriors seek to overpower Zombies, Goblins and dreadful monsters hidden along the way. Secret clues lead you to the exotic weapons and treasures you'll need to stay alive. your Quest? To save Paradise from the evil Ashura Devils- They're wicked and treacherous! It takes all the spirit and cunning you can muster to claim victory. Once you've started there's no turning back. Are you daring enough? *More than 170 vile monsters are just waiting for you to make their day! *Assemble your own special fighting force of four from this fearless bunch of humans, ESPers and Monsters. *Your adventure expands from one outlandish setting to the next as you master the four worlds.
More Photos of Final Fantasy Legend
Les prix de Final Fantasy Legend sur GameBoy sont actualisés tous les jours pour chacune des sources énumérées plus haut. Les prix indiqués sont les prix demandés les plus bas de Final Fantasy Legend au moment de la dernière mise à jour.
L'historique des ventes ne concerne que les ventes conclues dont le prix a été accepté par l'acheteur et le vendeur. Nous ne tenons pas compte des ventes non conclues.
Les graphiques vous indiquent le prix de Final Fantasy Legend à la fin de chaque mois, ainsi que son évolution depuis que nous avons commencé à le suivre.
Les prix en loose, CEB et neufs représentent les prix du marché actuel.
Select options to
display historic prices
Ok