Donkey Kong Land GameBoy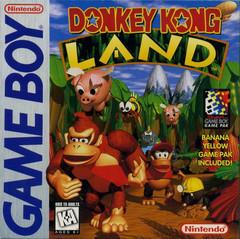 Information de Donkey Kong Land sur (GameBoy)
Genre:
Platformer
Date de Sortie:
June 26, 1995
ESRB Rating:
Kids to Adults
Publisher:
Nintendo
Developer:
Rare
Model Number:
#DMG-YT
Player Count:
1 player
Also Compatible On:
GameBoy Advance and GameBoy Color
Notes:
none
UPC:
045496730369
ASIN (Amazon):
B00002SVET
ePID (eBay):
2279
PriceCharting ID:
2817
Variantes:
players choice / not for resale /
Description:
Monkey Mayhem Comes to Game Boy With All New Kong Adventures! Donkey Kong teams up with his sidekick, Diddy Kong, for new adventures and gorilla antics. Facing high-flying pigs, deadly Zingers, and reptilian Kremlings our duo swings back into action! Challenged by incredible perils they clamor their way through the mysterious pirate ship, perils in the snow, an unbelievable aquatic temple, and crazy capers in the sky. Grab a vine and join the thrills in the Land of Kong!
More Photos of Donkey Kong Land
Les prix de Donkey Kong Land sur GameBoy sont actualisés tous les jours pour chacune des sources énumérées plus haut. Les prix indiqués sont les prix demandés les plus bas de Donkey Kong Land au moment de la dernière mise à jour.
L'historique des ventes ne concerne que les ventes conclues dont le prix a été accepté par l'acheteur et le vendeur. Nous ne tenons pas compte des ventes non conclues.
Les graphiques vous indiquent le prix de Donkey Kong Land à la fin de chaque mois, ainsi que son évolution depuis que nous avons commencé à le suivre.
Les prix en loose, CEB et neufs représentent les prix du marché actuel.
Select options to
display historic prices
Ok