OutRun 2006 Coast 2 Coast Xbox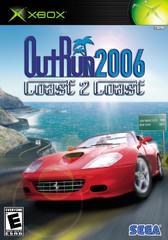 Add this item to your collection.
Keep track of your collection value over time.
Ok
Precio Suelto
Sitio
Precio
Amazon
PriceCharting
eBay
Precio completo
Sitio
Precio
Amazon
PriceCharting
eBay
Precio Nuevo
Sitio
Precio
Amazon
PriceCharting
eBay
Click tabs to see historic sales data.
Click on a listing to see full details.
Ok
OutRun 2006 Coast 2 Coast (Xbox) Detalles
Género:
Racing
Fecha de lanzamiento:
April 25, 2006
ESRB Rating:
Everyone
Publisher:
SEGA
Developer:
Sumo Digital
Model Number:
none
Disc Count:
1 game disc
Player Count:
1 player
Also Compatible On:
none
Notes:
Not to be confused with Outrun 2 which is a separate title also on the Original Xbox. This game in and of itself is one of the rarest titles released on the original Xbox.
UPC:
010086640656
ASIN (Amazon):
B000E21S9Q
ePID (eBay):
51440786
PriceCharting ID:
11030
Description:
OutRun 2006: Coast 2 Coast is a racing game developed by Sumo Digital and published in 2006 by Sega AM2. It is the 9th title in the series. Outrun 2006 is a re-imagining of the Out Run, the first game in the series and has a new game engine and modern graphics. The game is split into two parts: a conversion of OutRun 2 SP (which itself includes the OutRun 2 levels) and "Coast 2 Coast", which includes single-player races and challenges, and local network and internet multiplayer. OutRun 2006 was released in Europe and North America on the Xbox, PlayStation 2 and PlayStation Portable in March–April 2006, but was delayed until June for PC. In Japan, OutRun 2006 has only seen a PlayStation 2 release, albeit retitled as OutRun 2 SP. Each version is subtly different so as to play to the strengths of its home system, which includes a link-up feature between the PS2 and PSP versions, a different mission set for the PSP and Xbox Live support on the Xbox. The game featured an online mode for up to six players. The online service for the PC, PS2 and PSP versions of the game was discontinued in May 13, 2009. The Xbox Live servers went offline on April 15, 2010 due to the discontinuation of Xbox Live for Xbox.
More Photos of OutRun 2006 Coast 2 Coast
Los precios de OutRun 2006 Coast 2 Coast para (Xbox) se actualizan diariamente para cada una de las fuentes descritas anteriormente. Los precios que se muestran son los menores para OutRun 2006 Coast 2 Coast la última vez que actualizamos.
Las ventas históricas son las ventas completadas entre un vendedor y un comprador que aceptan el precio. No contamos los artículos no vendidos en nuestros precios.
El cuadro muestra el precio de OutRun 2006 Coast 2 Coast al final de cada mes, por tanto tiempo como hayamos hecho seguimiento al artículo.
Los precios de suelto, CIB y nuevo son los precios actuales del mercado.