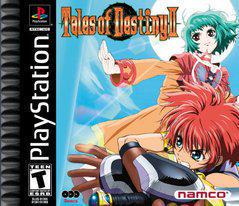 Add this item to your collection.
Keep track of your collection value over time.
Ok
Nieuw
Verkochte Producten
Geclassificeerd
Verkochte Producten
Alleen
Doos
Verkochte Producten
Alleen Handleiding

Verkochte Producten
Los Prijs
Website
Prijs
Amazon

$210.98

eBay

$249.00

PriceCharting
Compleet Prijs
Website
Prijs
eBay

$304.89

Amazon
PriceCharting
Nieuw Prijs
Website
Prijs
eBay

$899.95

Amazon
PriceCharting
Click tabs to see historic sales data.
Click on a listing to see full details.
Ok
Tales of Destiny 2 (Playstation) Details
Genre:
RPG
Releasedatum:
September 10, 2001
ESRB Rating:
Teen
Publisher:
Namco
Developer:
Namco
Model Number:
none
Disc Count:
3 game discs
Player Count:
1 player
Also Compatible On:
Playstation 2
Notes:
none
UPC:
722674021159
ASIN (Amazon):
B00005NCBY
ePID (eBay):
6171
PriceCharting ID:
4803
Description:
none
Tales of Destiny 2 prijzen (Playstation) worden dagelijks bijgewerkt voor elke hieronder vermelde bron. De weergegeven prijzen zijn de laagste prijzen beschikbaar voor Tales of Destiny 2 sinds de laatste keer dat deze zijn bijgewerkt.
Historische verkoopgegevens zijn voltooide verkopen met een koper en een verkoper die het eens zijn over een prijs. We houden geen rekening met onverkochte artikelen in onze prijzen.
De grafiek toont de prijs van Tales of Destiny 2 aan het einde van elke maand teruggaand gedurende de hele tijd dat wij dit artikel hebben bijgehouden.
Los, CIB en Nieuw prijzen zijn de huidige marktprijs.