Complete Nintendo Console NES System, 2 controllers, & 8 Classic Games (293465294635)
The total value and recent price are shown here.
Adding or removing games below will change the value here.
Next
Value:
$163.05
Price:

$79.99

US Shipping:
$29.99
Ends In:

Closed

Listing Type:

Auction

BIN
See the actual eBay listing by clicking this.
Makes it easy to buy the listing or place a bid.
Done
See it on eBay »
This is a list of games found with their value.
You can add additional games with text box above. Or remove games by clicking 'x' when hovering over a game.
Next
Games Included
| Found | Value | |
| --- | --- | --- |
| A Boy and His Blob Trouble on Blobolonia | $7.10 | X |
| Back to the Future | $7.99 | X |
| Baseball | $6.76 | X |
| Bases Loaded | $3.25 | X |
| Days Of Thunder | $5.37 | X |
| Duck Hunt | $6.00 | X |
| Elevator Action | $7.99 | X |
| John Elway's Quarterback | $2.89 | X |
| Mike Tyson's Punch-Out | $19.99 | X |
| Nintendo NES Console | $33.02 | X |
| Puzzle | $14.37 | X |
| Ring King | $8.00 | X |
| Spot | $7.82 | X |
| Spy vs. Spy | $7.99 | X |
| Super Mario Bros | $9.99 | X |
| Super Mario Bros and Duck Hunt | $3.57 | X |
| Zapper Light Gun | $10.95 | X |
This is the listing description. Red titles were automatically found.
Photos of the listing are below the description.
Next
Listing Description & Photos
complete nintendo entertainment system nes great games 2 controllers 9 games hookup accessories
you are bidding on lot awesome game "super mario bros / duck hunt " "a boy his blob " "elevator action " "bases loaded " "ring king " " back future " "john elways quarterback club " "days thunder included original nintendo game system plays like new there are two nes controllers all necessary nes hookup accessories this system good condition see pictures has been tested works perfectly but dont take my word for it check out our feedback on these systems bid with confidence buy from an established trusted source all that you need get started on your nes gaming experience included payment must be received within 3 days close ebay auction list items follows
more information on
super mario bros / duck hunt
gm0181 developed published by nintendo america two games one "super mario brothers / duck hunt" compilation package was released 1985 this double game came bundled with nintendo entertainment system consumer package that included control deck 2 controllers nes light zapper gun super mario bros game adventure sequel "mario brothers" with this follow up its legendary figurehead designer shigeru miyamoto strikes gold this highly addictive challenging fun offering scenario that princess has been kidnapped by wicked king named bowser mario luigi must come her rescue this game packed with more than 30 visually stimulating levels varied theme design there are also many good powerups including mushrooms increase your size strength an invincibility star fire flower that allows you shoot fire at your enemies super mario bros was one earliest nes games that skyrocketed nintendos rise top computer game system industry it type game that defined what nintendo was will be remembered for
the bundled duck hunt game shooting simulation game where you go out wildlife preserves with your hunting dog shoot ducks this game requires nes zapper light gun these guns come two colors standard grey colorful orange version there are three modes play this game game mode b you view hunting environment from first person perspective here your hunting dog flushes one or two ducks out their nesting grounds as fly around for short time you have only three shots hit them before they get away each successive round will permit you only certain number misses order move on next level as levels progress hunting ducks begin fly faster even fewer misses are allowed third mode c you are target practice with clay pigeons guidelines here are very similar modes b that you have limited number shots break two clay pigeons before they disappear into horizon rounds similarly get harder as you progress
more information on david craines boy his blob
gm0053 released 1989 "david cranes boy his blob trouble on blobolonia " unique part puzzle part platformer where you play 10 year old boy on treasure hunt for those who love challenge this very difficult game you travel with blob who you must help get back his planet you must go on quest gather enough money ultimately save blobolonia you cannot jump or attack as most arcade games instead you must use your head feed blob jellybeans which transforms him into different objects which you must use solve game blob can transform into 12 different objects that you can use explore solve this game music great especially catchy music you will hear blobolonia which adds great atmosphere challenging game caution this game has no save feature which can be very frustrating if you near end get killed so "careful" word day what makes david cranes boy his blob fun how you can experiment with it you have admit idea shape shifting blob thingy that can be used solve game puzzles original unusual despite its detractors this game one that nes collectors should have their collections it unique one kind fun
more information on
bases loaded
gm0116 developed published by jaleco entertainment inc released june 1987 bases loaded was new innovative addition nes gaming it was revolutionary that it was first incorporate "behind pitcher" point view you can select between one or two players it features variety options you have twelve different teams that you must choose from each has 30 players from which you make your lineup graphics are very realistic sound outstanding especially for its day gameplay also great with great control its smooth animation was bound make it hit excuse pun when on defense you both pitch control all positions field you can throw variety pitches from fastball curve when you are on offense you can steal bases hit homers or even bunt lost art today for hit very nice realistic touch that you can start donny brook by throwing few bean balls bases loaded allows you play single game or compete complete pennant run japan bases loaded for nes called "moero pro yakyuu " meaning "burn pro baseball" any language this nes classic belongs any collection
more information on
ring king
gm0269 developed by wood place inc published by data east usa inc "ring king" was released for nintendo entertainment system nes september 1987 this 3rd person perspective arcade type boxing game which fighting action ring viewed from 3d top down view while its accepted that mike tysons punch out best remembered boxing game for nes ring king was also capable competitor because its great humor more accurate simulation actual boxing ring king for nes features three different play modes which are "training ranking tournament" training mode its just as name implies learn how control your boxer before you enter tournament ranking mode you can select one three championships rookie japan world compete there are 5 difficulty levels available for each tournament mode you go for top spot among all boxers before you start playing this game you create your own character set his abilities strength speed stamina course these abilities increase visible status bar according bouts you win this game has full range moves including standard jabs hooks uppercuts with body punches combinations along with unique special attacks you pummel your opponent until he weakens goes down but flurry well placed hits can also produce quick knockout game has meter for fighters each punch you land will weaken your opponents strength but just as real boxing match opponent will recover slightly during breaks at end round on defensive side you can slip punches duck raise your guard protect yourself at all times ring king multoiplayer so you can either play against computer generated boxer or against one your friends there no save this password enabled game where after each fight won you receive password that enables you continue with next match tournament at later time graphics sound this game are certainly not best but no where near as horrible as some claim i must say ring king was one most humorous games on nes some things these fighters do are downright hilarious including unintentionally i think suggestive visuals europe ring king known as "king boxer" japan as "family boxing" pre owned includes game only no manual or instructions are included rarity rating "c " ring king game review by prince nes gamer
more information on
back future
gm0197 developed by beam software pty ltd published by ljn toys ltd "back future" was released for nintendo entertainment system nes september 1989 this nes game loosely based on hit movie same name scenario that you are marty mcfly typical senior at hill valley high but after you accidentally activate docs nuclear powered docs delorean super time machine sports car you are catapulted back year 1955 it there you find that your journey has warped time changed history you must take control marty mcfly make sure that lorraine baines george mcfly your future patents fall love before photo your family fades away it up you set time right get back future you travel along vertical scrolling screen looking avoid passing obstacles while collecting bonus clocks along way because back future you are race against two clocks one clock photo marty mcfly his siblings which can be refreshed by finding collecting these bonus clocks other clock static lasts 200 seconds cannot be refreshed when either clock timers reach 0 you lose life have start from beginning level if things werent complicated enough after 5 levels you find your future mom lorraine has crush on you so youll have dodge her kisses while trying figure out way get her george kiss at school dance back future difficult game wont be easy because time always running out but if you are up for challenge have patience you can save day get back future suitable for persons ages six older pre owned includes game only esrb rating e for everyone rarity rating d back future review by "nes gamer"
more information on
john elways quarterback
gm0098 developed by rare ltd published by tradewest inc "john elways quarterback was released march 1989 play perspective for this platform game top down vertical scrolling with nine players on each team you can play this game against your friend player vs player mode or you can go up against computer select your nfl team city no nfl or nflpa license then go head head against opposing team for four quarters teams you can select are seattle chicago dallas miami cleveland washington los angeles denver minnesota pittsburgh new england new york san francisco san diego graphics this game are simple one team has red uniforms other will have blue when you are on offense you control quarterback you have nine different offensive plays from which choose when you are on defense you get control middle linebacker position you have selection six different defensive plays
more information on
days thunder
gm0190 description game review developed by beam software pty ltd published by mindscape inc "days thunder" was released for nintendo entertainment system nes october 1990 loosely based upon tom cruise film same name days thunder brings realistic 3rd person perspective recreation nascar stock car racing for nes masses game scenario that you play role rookie driver cole trickle as you take on your racing rivals tough season that consists eight races these eight grueling races will be run on seven best tracks nascar has these race tracks are all standard nascar oval but vary gradients corner styles length so you have adjust your driving according track you are on because perfect racing lane on one track may be path your crashing into wall on another before each race you participate four lap qualifying round order earn your starting position course like any race object stay lead finish first days thunder realistic recreation actual nascar racing so your race car tires will need refueling take damage have tire wear as result you will occasionally need make pits stops deciding strategically when make pit stops refuel which repairs make while pits just may be difference between winning loosing keep mind that carelessly loosing time pit stops will cause you loose positions race but you do control five man pit crew help you that endeavor when you consider limitations gaming platforms nes era graphics are surprisingly good there not much music this game nor should there be except for standard tune music you hear when you blow engine when you fail win or run out gas there also victory music music when you win championship apart from music sound effects such as engine air guns pit are sweet days thunder one oldest toughest racing games nes era pre owned includes game only esrb rating n/a rarity rating c days thunder review by "nes gamer"
more information on
elevator action
what release this was an arcade game by teito from 1983 that had long lasting appeal coin op world nes version appeared 1987 1988 i believe with nary an improvement sight but who cared finally magic that was elevator action could be played any time at home home version was virtually identical arcade fans this baby wouldnt have it any other way you play some guy named otto or agent 17 from what agency youre secret agent you need steal documents blow away anybody who gets your way fair enough
the action was simple ride elevators from top building down collecting documents from marked doors taking on various suited minions who look like spy vs spy guys from mad who try stop you it was that doors kept being re arranged meaning you had navigate elevators carefully watch out for walls watch out for bullets since it took only one for otto buy it you were armed with your trusty piece plus you could karate kick enemies with hilarious boot head complete with blippity blip jumping noise otto sported really high conan obrian hair that was also good target for bullets you could shoot lamps so they fell on peoples heads crush people with boxy elevators if you were patient you could even hold elevator so long that some hapless goon two floors down would get upset throw himself into elevator shaft magic lets not forget car otto always had waiting street it looked like he jumped into giant turnip sped away more great sound real fan favorite cheese all
information
1 nes control deck console
2 av tv connection cable
3 ac power supply adapter
4 2 nes controllers
5 9 nes games 8 cartridges
super mario bros duck hunt 2 super classics no gun included
david cranes boy his blob great fun
elevator action awesome arcade classic
bases loaded nes baseball at its best
bases loaded ring king super boxing
back future like movie
john elways quarterback need we say more
days thunder super auto racing
if you are looking get nes steal this system get
if there are any questions dont hesitate ask before you bid check out our other items up for bid
shipping this lot flat rate anywhere within us includes delivery confirmation check out our feedback bid with confidence from trusted source we pride ourselves excellence honest representation service communication
thank you for your patronage good luck bidding


powered by ebay turbo lister
the free listing tool list your items fast easy manage your active items

powered by ebay turbo lister
the free listing tool list your items fast easy manage your active items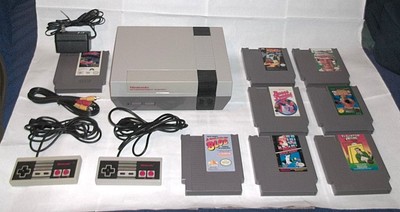 Why are you reporting this lot?