DOUBLE DRIBBLE/HOOPS/MLB/ROGER CLEMENS/TETRIS NES GAME LOT (283739232638)
The total value and recent price are shown here.
Adding or removing games below will change the value here.
Next
Value:
$35.51
Price:

$1.00

US Shipping:
varies by location
Ends In:
1 days
Listing Type:

Auction

BIN
See the actual eBay listing by clicking this.
Makes it easy to buy the listing or place a bid.
Done
See it on eBay »
This is a list of games found with their value.
You can add additional games with text box above. Or remove games by clicking 'x' when hovering over a game.
Next
Games Included
| Found | Value | |
| --- | --- | --- |
| Baseball | $4.86 | X |
| Double Dribble | $5.21 | X |
| Hoops | $1.82 | X |
| MUSCLE | $10.00 | X |
| Major League Baseball | $2.11 | X |
| Roger Clemens' MVP Baseball | $3.82 | X |
| Tetris | $7.69 | X |
This is the listing description. Red titles were automatically found.
Photos of the listing are below the description.
Next
Listing Description & Photos
double dribble
finally its here basketball game youve dreamed first home game with 5 on 5 full court board banging action contest with graphics so real theyll knock your high tops off ready captain your team title you bolt into arena with electricity your fingers ice your veins intensity builds crowd roars game yours win or lose but win youll need speed lane touch for three pointers
muscle
power past picks skill crash glass if you break free underneath watch out because now you can power home rim rockin slam so pull up your shorts take deep breath its crunch time time show your stuff
hoops
gym rats beware
hoops
takes you out asphault where basketball is half court game fast hands faster moves slam jam thank you sam dunks legends playground are all here mr doc jammer legs bomber wiz eight players all you can pit them one on one or two on two you pick court eastern or western you pick rules too you can play against computer or one other player or you can even team up with another player against computer you can block shots make steals pass off or go strong hoop fact you control just about everything this ultra realistic rendition playground game except course the final score but win or lose you know youve been game after youve played game
hoops
major league baseball
sure youve always wanted be professional ball player but have you ever thought about managing well heres your chance prove yourself both on off field
roger clemens mvp baseball
it took ljn roger "the rocket" clemens pest pitcher
baseball
bring home greatest
baseball
game ever
the view as good as it gets with true over shoulder the field perspective amazing close ups close plays tv style picture picture stats post game coverage when going gets rough check out pitching strategy tips from rocket himself
you choose your team manage them through simulated season climaxing with best 7 championship series or create your own dream match ups exhibition games
its 1 or 2 player
baseball
action at its best any way you play its hot with rocket youll really feel heat
feel heat with best nes
baseball
game
over shoulder fielding most realistic perspective ever
close up plays at base players control slide tag
choose your lineup 26 teams with complete rosters stats
league play can your team go all way
tetris
your pulse quickens beams boxes zig zags and "l" shaped building blocks drop relentlessly down narrow passage you quickly spin shift align shapes then slide them for perfect fit its challenging pace demanding but satisfaction comes as you position each block neatly into place start at new heights for tougher contest pick music set your pace from 20 progressive skill levels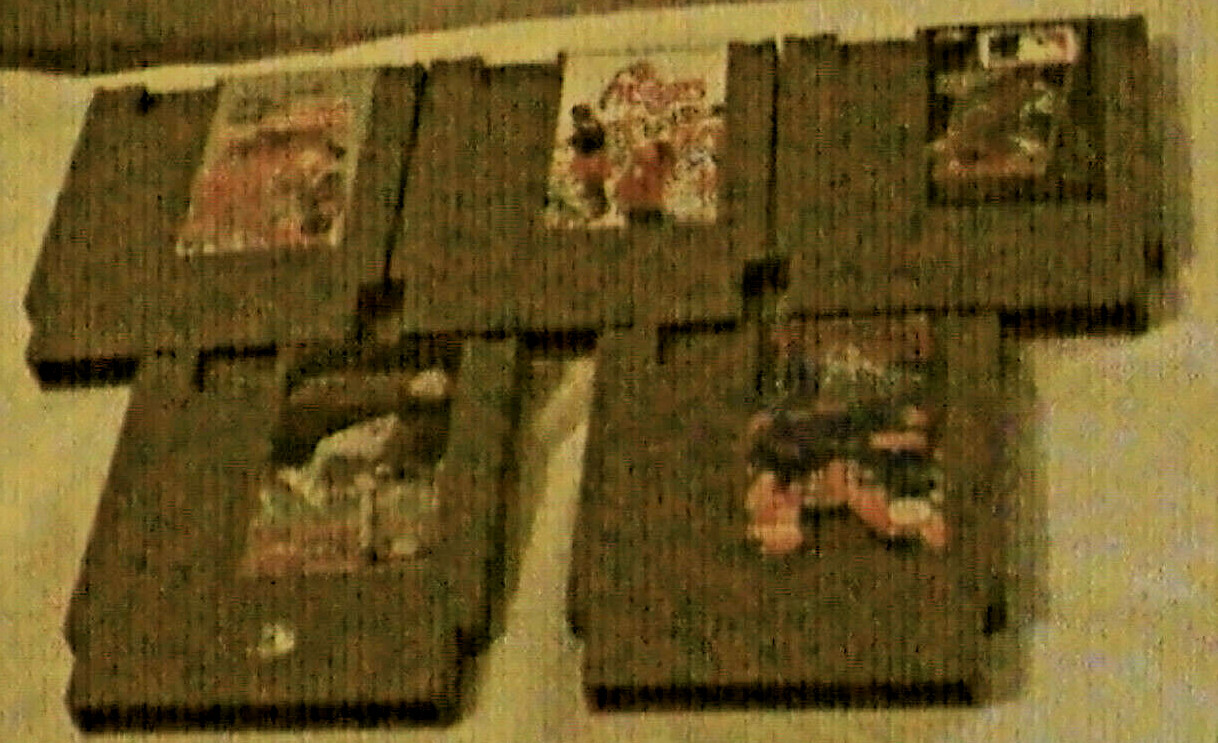 Why are you reporting this lot?