NES Nintendo Original, 2AuthenticControllers,Gray Gun,5Games,COMPLETE TESTED! (153582166327)
The total value and recent price are shown here.
Adding or removing games below will change the value here.
Next
| | |
| --- | --- |
| Value: | $59.65 |
| Price: | $89.99 |
| US Shipping: | $0.00 |
| Ends In: | 3 days |
| Listing Type: | BIN |
See the actual eBay listing by clicking this.
Makes it easy to buy the listing or place a bid.
Done
See it on eBay »
This is a list of games found with their value.
You can add additional games with text box above. Or remove games by clicking 'x' when hovering over a game.
Next
Games Included
| Found | Value | |
| --- | --- | --- |
| Championship Bowling | $3.98 | X |
| Commando | $6.65 | X |
| Duck Hunt | $5.88 | X |
| Lee Trevino's Fighting Golf | $2.92 | X |
| Nintendo NES Console | $30.00 | X |
| Super Mario Bros | $5.88 | X |
| Super Mario Bros and Duck Hunt | $4.34 | X |
This is the listing description. Red titles were automatically found.
Photos of the listing are below the description.
Next
Listing Description & Photos
cleaned out fully tested this nes original model
nintendo system
very good little yellowing it also includes 2 authentic controllers gray zapper gun authentic power supply av cords av=way better picture and 5 bonus games too including
super mario bros/duck hunt
commando
more
has been cleaned up very well specifically 72 pin connector reset cleaned making system as efficient as possible any bundled games will have gotten same treatment as has everything when it comes cleaning and/or refurbishing for maximum efficiency as said this an original
nes system
that has had easily over 1 000 games released for it this not nes classic re release
what you get this listing broken down better
nes
nintendo console
very good shape bottom stickers all there little yellowing see photos
2 authentic original nes controllers both very good shape

authentic power supply works perfectly very good
av cords av=better picture than rfu easier hook up as well
gray authentic zapper gun for
duck hunt
optional on some works on lot other games too
special offer can switch out gray for "fan favorite" orange if you prefer

5 games
super mario bros
dunk hunt
commando
lee trevinos fighting golf
championship bowling
w/manual
note if you want
commando
or
championship bowling
separate they will be $7 each will even come with sleeves
the system controller cords are all very good shape some scratches there are no issues with anything loose coming apart etc wires great all buttons everything the games are also very good
again see all photos so you know exactly what you are getting
shipping free within united states international shipping available calculated based upon where you live
many other nes games also listed individually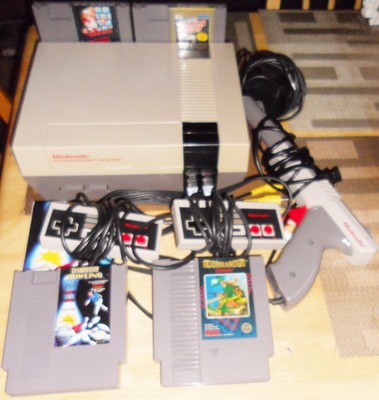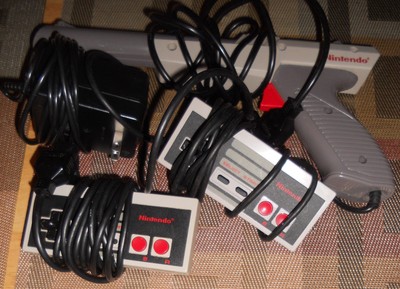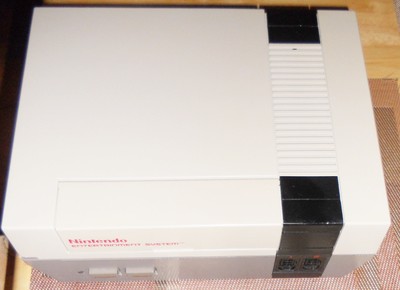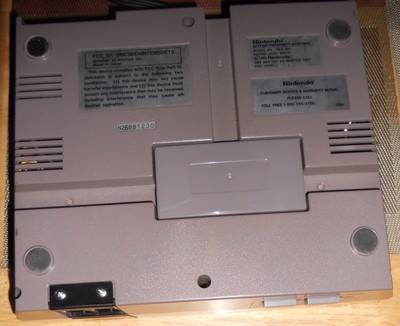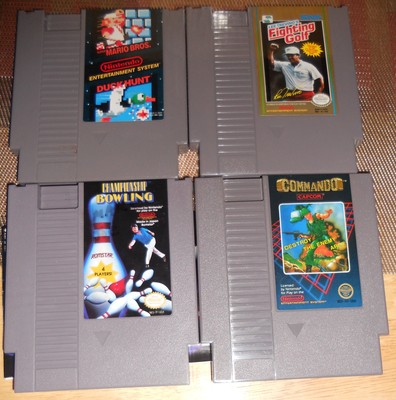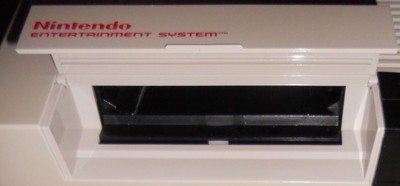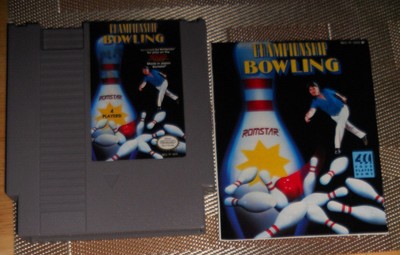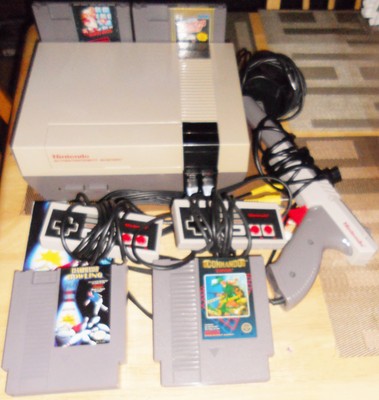 Why are you reporting this lot?