NES Nintendo System with Box, Games and Accessories Bundle! NO RESERVE! (133231640316)
The total value and recent price are shown here.
Adding or removing games below will change the value here.
Next
| | |
| --- | --- |
| Value: | $306.08 |
| Price: | $30.00 |
| US Shipping: | varies by location |
| Ends In: | Closed |
| Listing Type: | Auction |
See the actual eBay listing by clicking this.
Makes it easy to buy the listing or place a bid.
Done
See it on eBay »
This is a list of games found with their value.
You can add additional games with text box above. Or remove games by clicking 'x' when hovering over a game.
Next
Games Included
| Found | Value | |
| --- | --- | --- |
| 10-Yard Fight | $3.89 | X |
| Bandai Golf Challenge Pebble Beach | $3.31 | X |
| Baseball | $4.62 | X |
| Blades of Steel | $7.00 | X |
| Captain Skyhawk | $3.75 | X |
| Golf | $3.98 | X |
| Hoops | $2.08 | X |
| Jeopardy | $2.48 | X |
| John Elway's Quarterback | $2.00 | X |
| Jordan vs Bird One on One | $3.78 | X |
| Major League Baseball | $2.76 | X |
| NES Advantage Controller | $16.98 | X |
| Nintendo NES Console | $37.00 | X |
| Power Glove | $66.13 | X |
| Pro Wrestling | $6.47 | X |
| Punch-Out | $11.07 | X |
| Rampage | $12.86 | X |
| Rocket Ranger | $3.53 | X |
| Shadowgate | $9.65 | X |
| Silent Service | $3.53 | X |
| Star Wars | $14.81 | X |
| Stealth | $4.81 | X |
| Super Dodge Ball | $11.56 | X |
| Super Mario Bros | $9.84 | X |
| Super Mario Bros 2 | $11.87 | X |
| Super Mario Bros 3 | $10.17 | X |
| Super Mario Bros and Duck Hunt | $5.19 | X |
| Tecmo NBA Basketball | $7.05 | X |
| Teenage Mutant Ninja Turtles | $7.39 | X |
| Tetris | $7.32 | X |
| Wheel of Fortune | $1.31 | X |
| Wheel of Fortune Family Edition | $3.97 | X |
| Winter Games | $3.92 | X |
This is the listing description. Red titles were automatically found.
Photos of the listing are below the description.
Next
Listing Description & Photos
up for auction at no reserve nintendo
nes system
games accessories bundle i bought most this stuff on ebay myself over last few years just do not play them enough justify keeping them i originally bought
nes system
with box an ebay auction 2015 description at time said that owner had put new 72 pin connector so that part not original lot games accessories i have gotten additional auctions i received them dirty state i just never got around cleaning them thoroughly i mostly kept everything this auction box never really played much i did test just about every game though
everything you see photos are what you will receive i will do best i can describe everything their condition please keep mind i am not professional these are just my personal opinions when it comes condition
nes system
like stated above previous owner put new 72 pin connector so that not original it working condition i have tested it with games cosmetically it pretty good condition it has some signs being used with small stains dents dirt scuffs so on it still has all sticker labels like "video" "ac adapter" if you want get very detailed it missing one screw on underside ac adapter nintendo brand though wire seems much longer than memory serves from my original nes as kid adapter bit scuffed up rf switch connector also nintendo brand looks be good condition
nes box
id personally say box acceptable good condition especially for its age it has some stains sticker residue dents scratches scuffs frays so on zapper manual nintendo power insert are really good condition control deck manual really good condition except for dent near one staple nintendo warranty nintendo poster are pretty good condition but they each do have noticeable dent them but again for their age they are all good condition foam insert decent condition it missing little chunks it has some cracks/breaks but overall decent condition for its age
games
some games would come up right away others needed multiple tries get them working they could all probably use good cleaning honestly
logo for title official licensee
major league baseball
1987 good condition
10 yard fight
good condition
bandai golf challenge pebble beach
good condition
blades steel
pretty good condition
captain skyhawk
decent condition
golf
poor condition could use good cleaning
jack nicklaus greatest 18 holes major championship
golf
good condition
jeopardy
decent condition some scuffs could use cleaning
john elways quarterback
good condition
jordan vs bird one on one
ok condition needs good cleaning
pro wrestling
decent condition
punchout
acceptable condition
rocket ranger
decent condition
shadowgate
acceptable condition
silent service
two copies this game one poor one decent condition
star wars
poor condition notably plastic cracked underneath label
super dodge ball
good condition
super mario bros
two copies this game both poor condition
super mario bros 2
excellent condition
super mario bros 3
very good condition
super mario bros/duck hunt
good condition
tecmo nba basketball
very good condition
teenage mutant ninja turtles
very good condition
wheel fortune
good condition
wheel fortune family edition
good condition
winter games
decent condition
accessories
captain clean poor condition flap broken
controllers there are six regular controllers total ranging from poor dirty pretty good condition
nes advantage controller
poor dirty condition i could not get it working
power glove
i would say
power glove
poor condition i have not tested it so i do not know if it actually works let alone if i actually have all pieces needed make it work it also missing button next d pad
rf switch there are two extra rf switches okay condition
zapper it good condition however it has not been tested



i have it all boxed together ready ship day after i receive payment so you can have it before christmas with quick payment

i only ship lower 48 states it sold as i do not accept returns do note that i have 100% positive feedback i try make my listings as accurate as i can please feel free contact me with any questions you have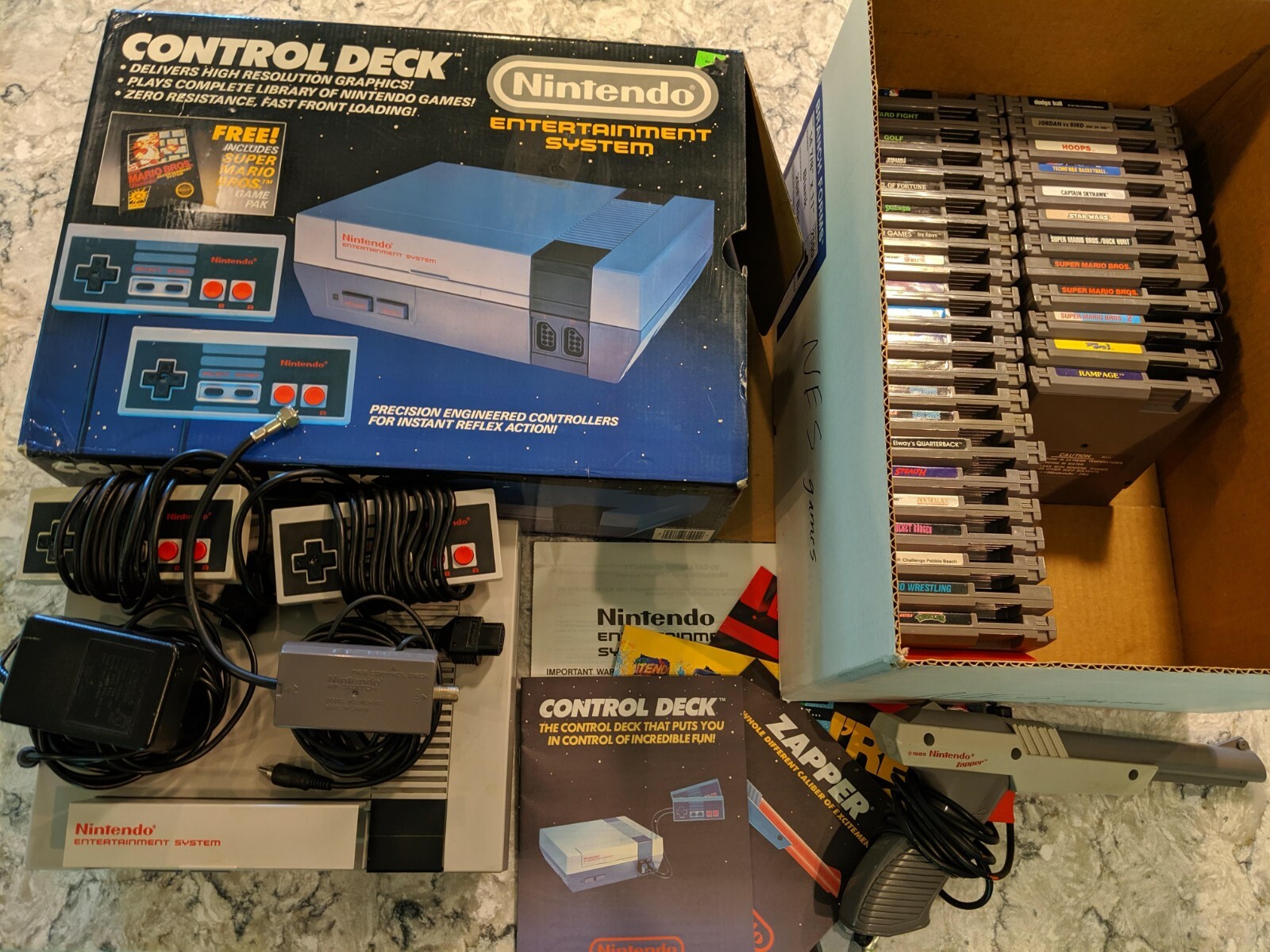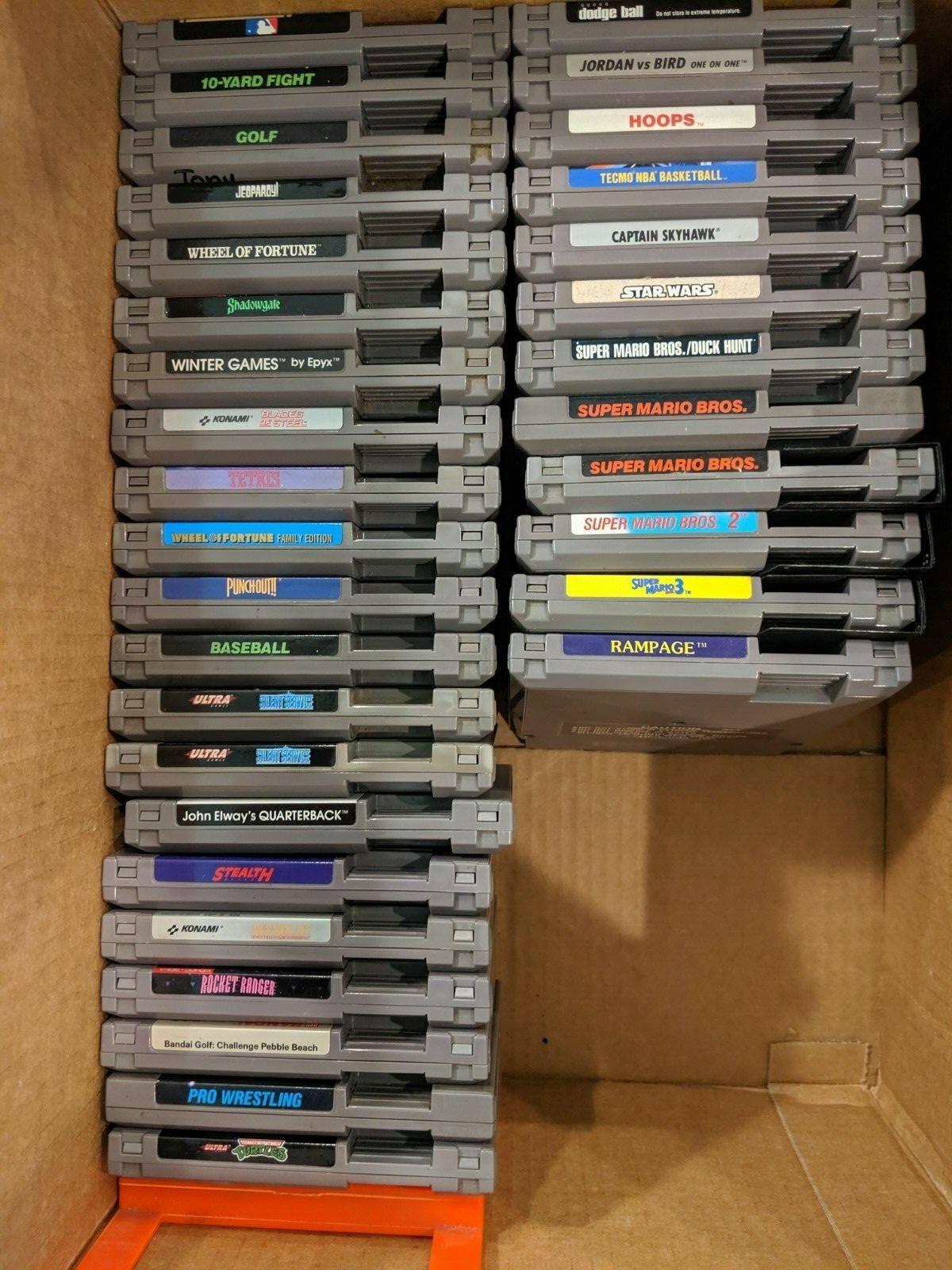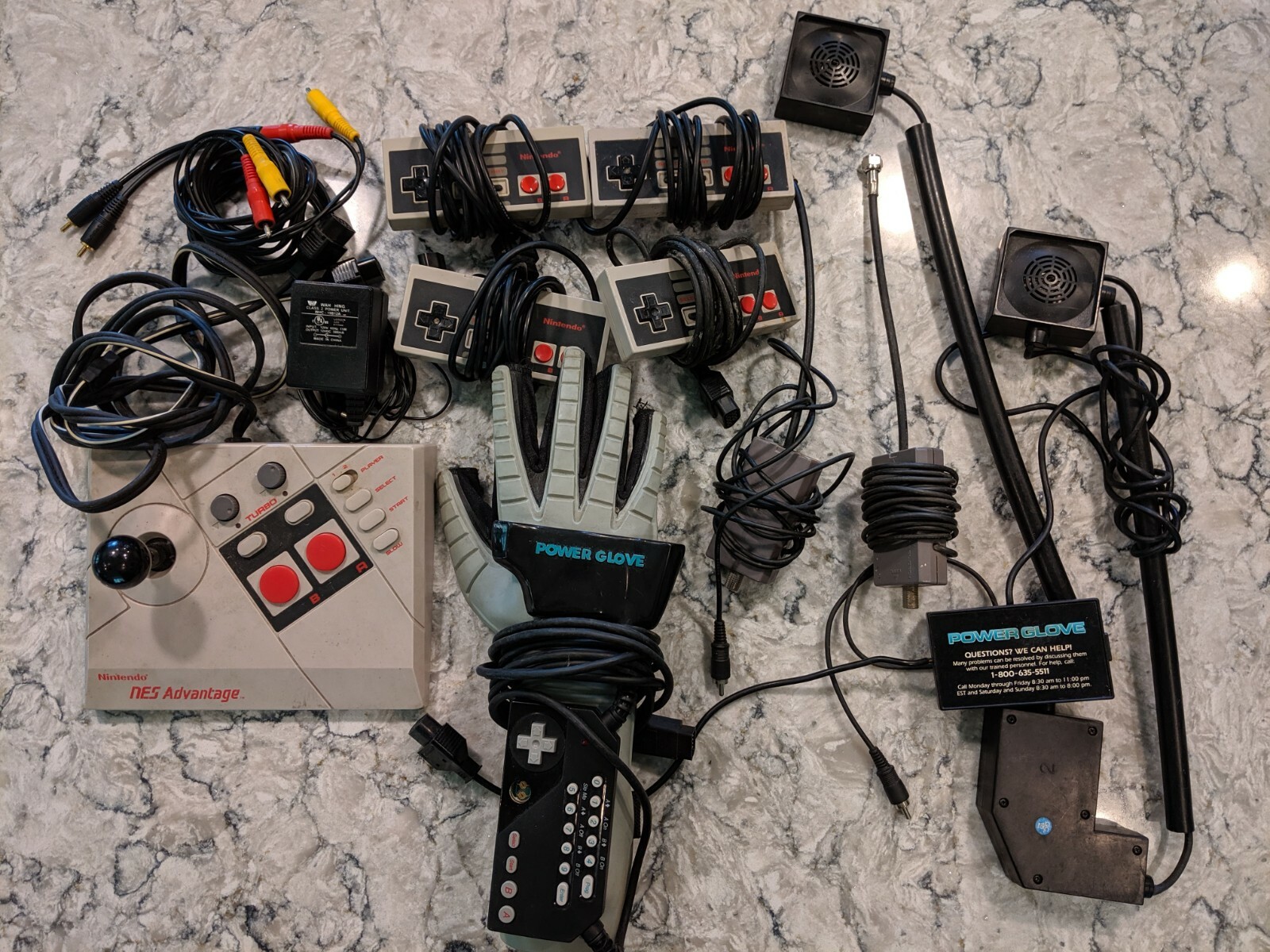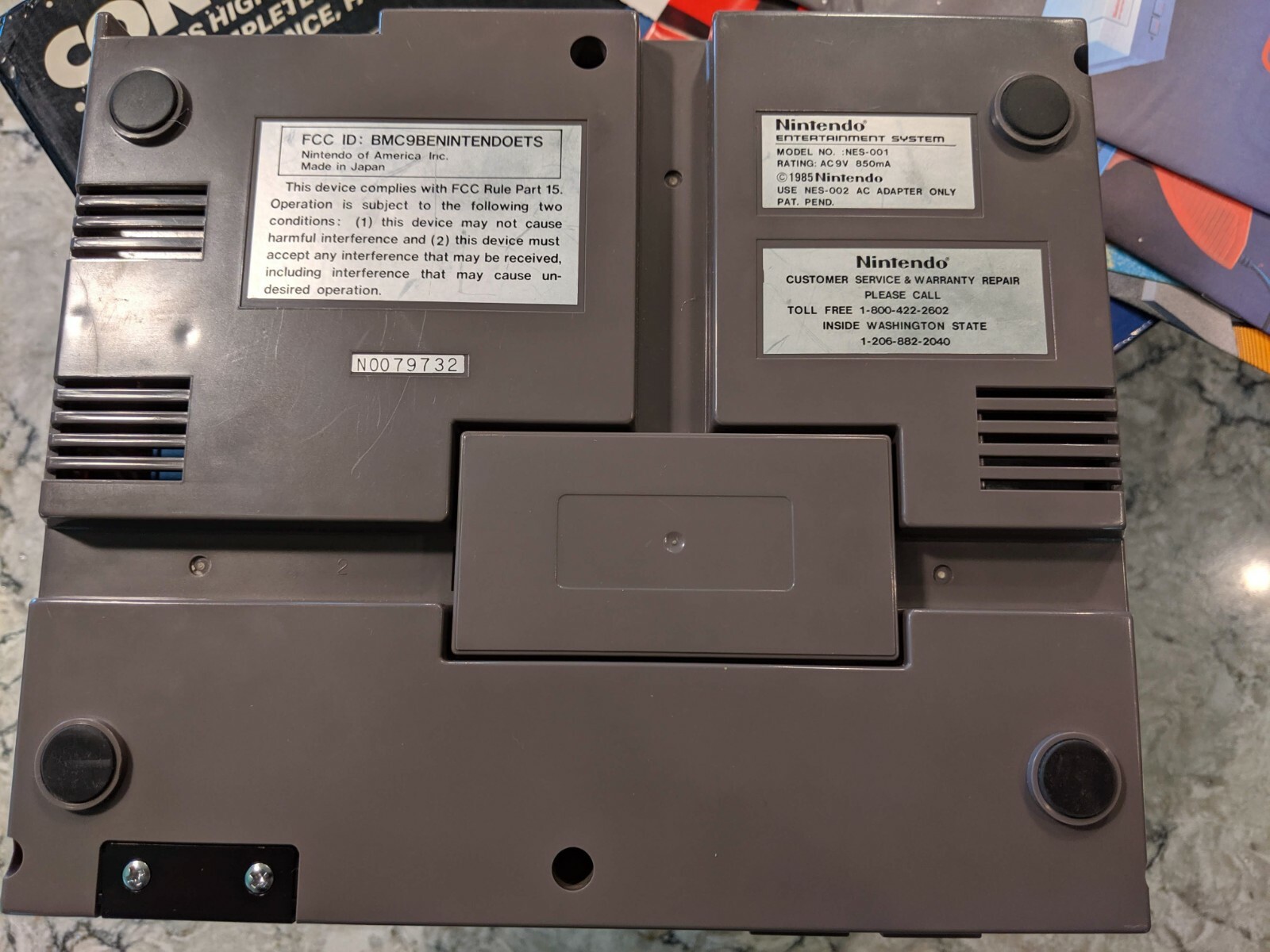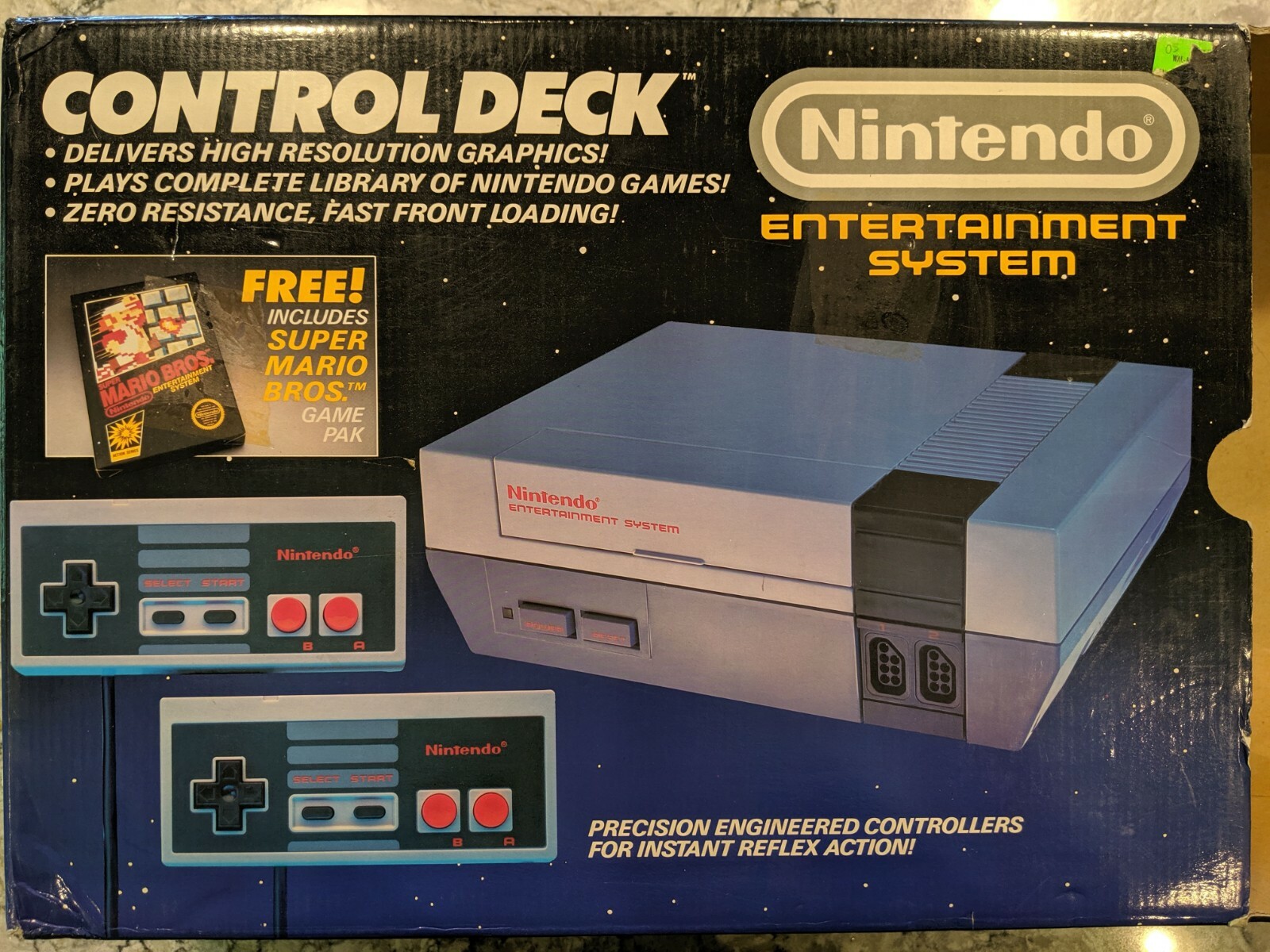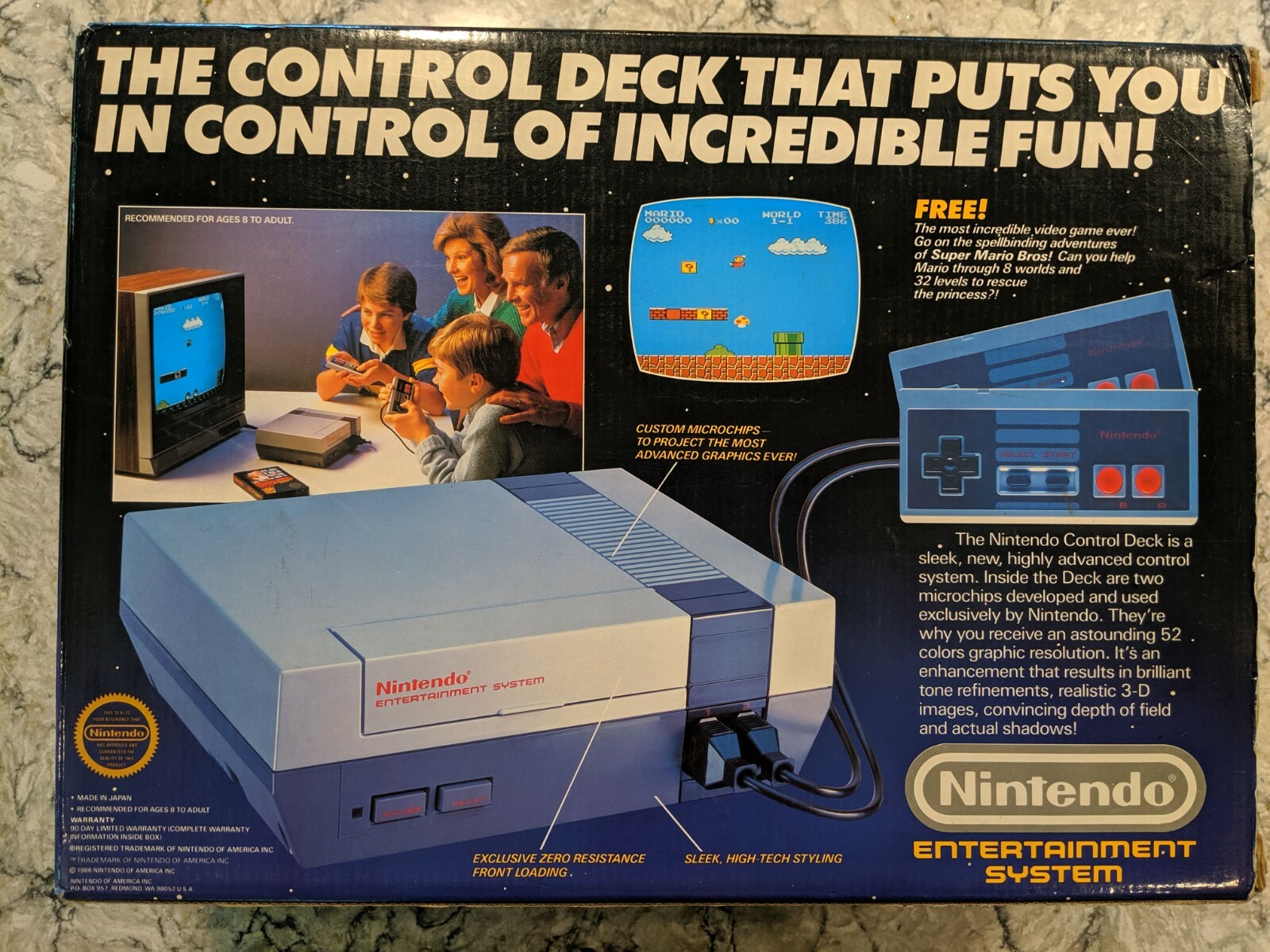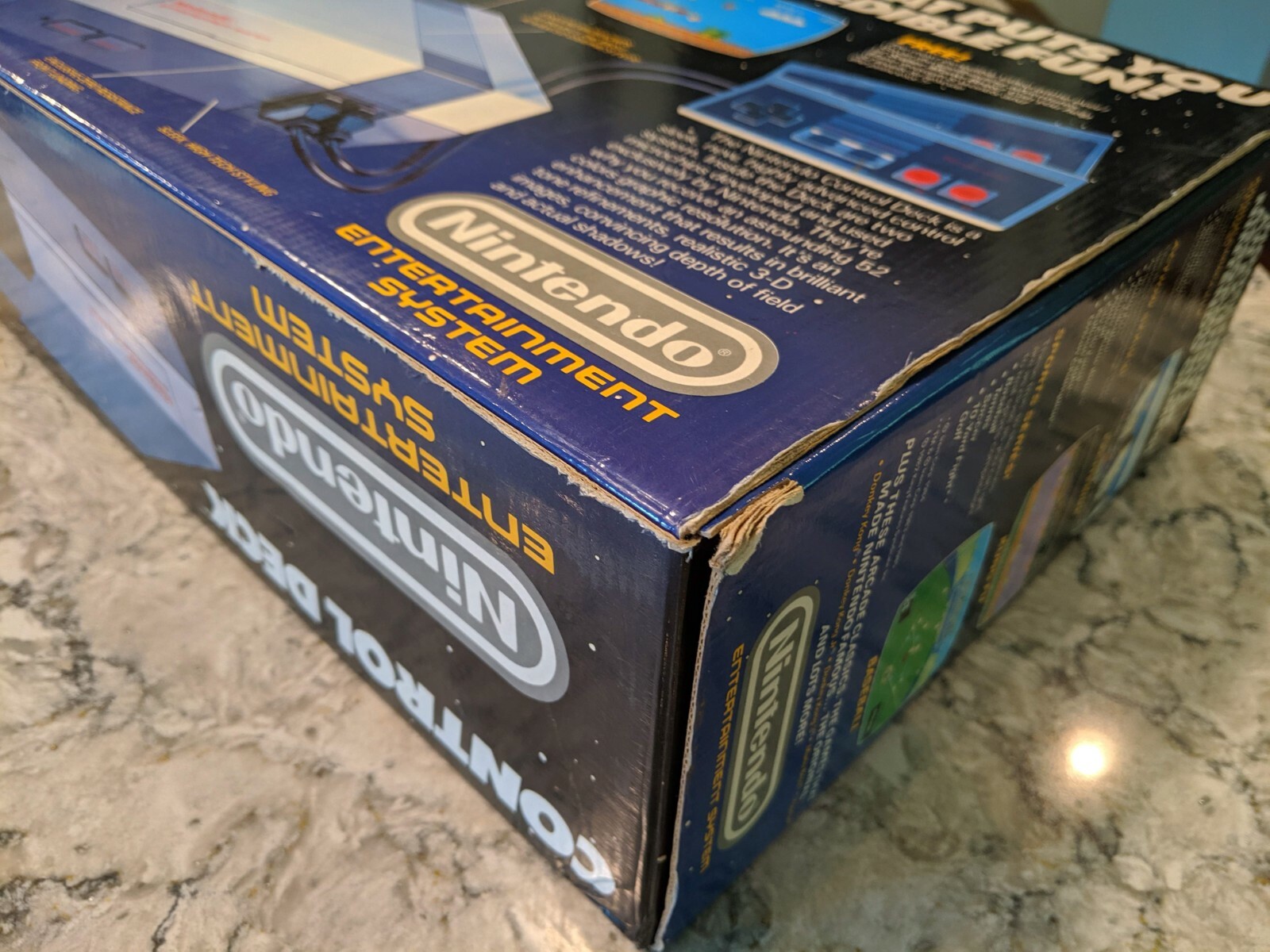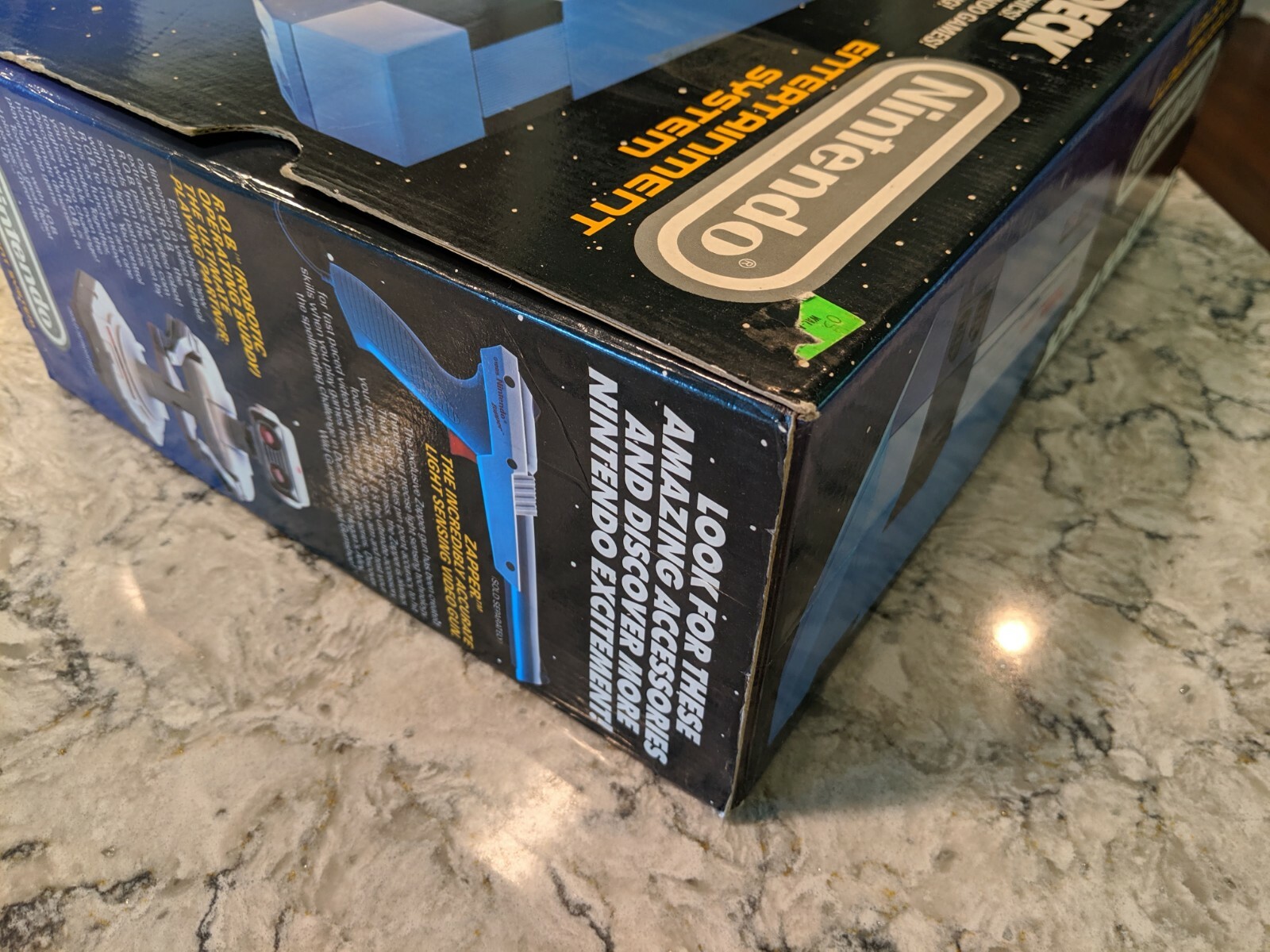 Why are you reporting this lot?